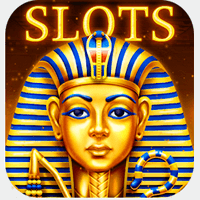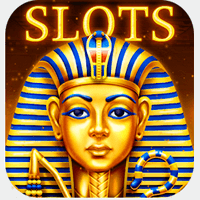 Pharaoh Slots Free Casino App for Egyptian-Themed Vegas Style Slots
Pharaoh Slots Free Casino App delivers exciting Egyptian themed free slots, in rich detailed graphics that will take them to the world of Anubis, Pharaohs and hidden treasure chambers. The developer has created numerous other Vegas style slot games in similar styles but with different themes.
Although Pharaoh Slots Free Casino App carries a title with an Egyptian theme, there are other titles available with varying motifs, such as the slots with the Ancient Greece theme.
If a change of theme is not enough to keep a player all fired up, the app also carries blackjack, Texas Hold'em Poker, and Bingo games for added enjoyment. They can invite others to play these games as well or to be part of a competition.
Pharaoh Slots Free Casino Game Features
The main theme of this free slots app is the ancient Egyptian civilization, as it features scarabs, Pharaohs, Anubis and Cleopatra as reel icons.
Three Cleopatras and a player can enter one of many different bonus themes, such as finding the treasure in the Pharaohs chamber. Actually, there are many more themes, bonus styles, and ways to win in this multi-themed free slots app.
In the School of Magic theme, each winning symbol is eliminated and new symbols drop into place, increasing your chance of winning. The app also features very detailed gameplay introductions.
Pharaoh Slots Free Casino App Features
The Pharaoh Slots Free Casino App features several different ways to set one's preferred reels. App users can activate the quick stop feature or set it into autospin mode. They can also adjust the reel sizes and symbols including: 5 reels – 3 symbols, 5 reels – 4 symbols and 3 reels – 3 symbols. There are many chances for free spins in the game, which makes slot play extra exciting.
Pharaoh Slots Free Casino App is a free application, which means paid advertisements are expected to pop-up. Still, the app compensates users by rewarding them with bonus coins every hours so they can keep their play going.If those are not enough, or still a long time coming, those who run out of credits can make in-game purchases for more.
As a social casino game app, Pharaoh Slots Free Casino App allows users to connect with their friends via Facebook, and to send invites, or to send them gifts. Doing so earns them additional coin rewards.
This Pharaoh Slots Free Casino App has received updates recently, which added new and improved graphics to its appeal. In the latest version, four slot machines have been added to allow the holding of a real time tournament.
The developer Ford Wang of Zentertainment Ltd commits to continually make improvements to keep the game fresh and exciting, including a new slot machine theme.
Pharaoh Slots Free Casino App is free to download at the iTunes App Store and can be installed in iOS devices supported by Versions 5.1.1.and up.