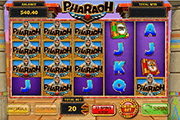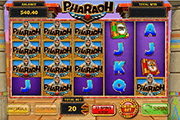 Pharaoh Online Slot: Random Reel Modifiers and Three Bonus Games to Select
Pharaoh online slot is an enjoyable, icon-matching adventure in the company of a fun-loving Pharaoh. Once in a while, the featured Egyptian Ruler appears on screen. He will boost players' chances of striking wins by adding elements to the reels. Some will make it possible for players to access a Bonus Feature, or go on a winning streak. Another ensures guaranteed payouts by way of a Wild Win. Activating the Bonus Feature is the most advantageous, as more rewards can be garnered via free-spins and/or instant wins.
The Pharaoh Game Logo is the highest paying icon that may fall as one-of-a-kind symbols in any of the game's 20 paylines. A line up of 2, 3, 4, or 5 Logo Symbols as payline contents, awards 4, 50, 200, or 500 credits, respectively. The Wild Symbol shares the same Paytable Values, as it can also create winning combinations. Wild-completed arrangements though award pays based on the payout scheme of the winning symbol.


Pharaoh Online Slot: Random Reel Modifiers
On any regular spin, a Pharaoh animation randomly appears on screen. The figure will add certain elements to the reels to create any of the following:
Super Bonus Reels – A large concentration of Bonus Symbols will be added to the grid; giving players heightened chances of activating the main Bonus Features.
Wild Winner – To ensure a win outcome, the grid will receive lots of Wild Symbols. This feature gives a promise that a Wild Win will transpire with at least 6x the Total Bet as payout value.
Win Streak is also a guaranteed-win feature that empowers players to strike wins on consecutive spins.
Pharaoh Online Slot: Bonus Features
The Pharaoh Bonus icon that triggers the Bonus Features takes position only in Reels 1, 3, and/or 5. When all three reels return after a paid spin with that icon, the Bonus Game Panel activates.
Players will choose a Bonus Feature by rolling a dice to determine a spot on which to advance. If a player lands on a Monument, the feature specified will activate. Landing on an edifice without a label simply requires players to roll the dice until it lands on any of the following:
Free-Spins – The number of spins awarded will be determined via a bonus wheel. The bonus round also comes with a win multiplier or Extra Wild feature, A Win Multiplier increases all winnings earned from the Bonus Round. On the other hand, a randomly selected regular paying symbol will play as Extra Wild during the Free-Round.
Pharaoh Wild Spins – This feature awards only four (4) bonus spins. The bonus game will run on a grid that receives two (2) Wild Symbols on every spin. Every Wild will stay on for the next spin, but will shift to a different position.
Pyramid of Prizes gives players a chance to win instant cash prizes, and at the same time vie for a chance to play the Free-Spins or the Pharaoh Wild Spins.
On each step, Total Bet Multipliers, and an Arrow Up Symbol spin continuously. Players have to hit the STOP button to land an outcome. The result determines whether a player will continue to spin for additional prizes in each level, or advance to the next Pyramid Step.
However, if the Multiplier won by a player comes with a COLLECT prompt, the game ends immediately. Still, if a player succeeds in reaching the top of the Pyramid, he or she will get to activate either the regular Free-Spins Bonus Round or the Pharaoh Wild Spins.