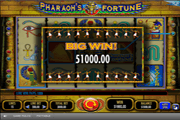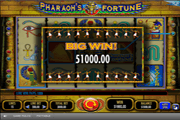 Pharaoh's Fortune Online Slot – Collect Additional Free Spins and Increase Multipliers via Bonus Game
Pharaoh's Fortune online slot is played via Egyptian-themed 5-reel configurations. It has the IGT distinction of a real money gambling entertainment that has two sets of reels; one for base game play, and another for the Free-Spins Game.
The base game reel offers 15 paylines, while the Free-Spins reel panel furnishes 20 possible pay patterns. It follows that there are two sets of reel icons as well, as this game showcases various images of ancient Egyptian deities, and of objects or symbols related to their divinity.
[/CBC]

Pharaoh's Fortune Wild Symbols
The Pharaoh's Fortune with Pyramid Logo is the base game Wild Symbol, and may replace any regular symbol to complete a payline win. It can also form its own base game payline combinations, awarding as many as 10,000 coins for every 5-of-a-kind matches.
In the Free-Spins bout, the Pharaoh Bust with Red and Gold Head Cloth is the Wild Symbol. It pays 25, 100, 300, or 10,000 for every 2, 3, 4 or 5 matched-symbol combinations in any of the 20 free-spins paylines. Except for a 5-of-a-kind combination, payline wins formed by the Pharaoh Bust with Red and Gold Head Cloth Wild is also awarded in folds, based on the Win Multiplier in play during the free round.
Pharaoh's Fortune Scatter Symbols
The Golden Scarab icon is the base game Scatter Symbol. It rewards players with 2, 5, 10 or 50 coins for any two (2), up to five (5) of such symbols appearing simultaneously in any spot across the reels.
The Golden Sphinx is the Free-Spins Scatter Symbol, and pays 1, 2, 5, or 20 coins for any two, up to 5 Golden Sphinx Symbols appearing altogether as outcomes of a spin. Although the coin rewards seem lower than the base game Golden Scarab Scatter Pays, the Bonus Spin Value multiplies the Golden Sphinx Scatter Pays. The Bonus Spin Bet Value constitutes the Coin Value wagered per payline x 20 paylines, as the game takes into consideration the additional five (5) paylines in play during the free games.
Pharaoh's Fortune Bonus Symbol and Pick Me Bonus Game
Whenever a trio of Pharaoh Bust with Blue and Silver Head Cloth appears in a payline, this particular Bonus Symbol sets off the interactive Pick Me Bonus Game.
The Pick Me Bonus Game is played via a different game panel. The panel contains Stone Blocks with hidden Bonus Prizes comprising a +1 Free Spin, a +1 Multiplier and a +1 Bonus Pick. The prizes revealed pose as increments that could bring the total free-spins rewards to 25, and the free-spins Win Multiplier up to x6.
However, a Stone Block selected, revealing the prompt "Begin the Free-Spins Round" ahead of other choices, will cut short the Pick Me exercise.
Pharaoh's Fortune Bonus Game Free-Spins
The Free-Spins Bonus Game starts with a set of three (3) bonus spins and a 1x Win Multiplier. Those numbers will increase gradually, every time a +1 Free Spin and +1 Win Multiplier is unraveled during the Pick Me Bonus Game.
During the free round, if another set of three (3) Pharaoh Bust with Blue and Silver Head Cloth emerges in Reels 1, 2 and 3 as outcomes of a bet-free spin, the Free-Spins Bonus Game will re-launch. The number of additional bet-free spins added to the remaining spins will be equal to the original total number activated for the bonus round.