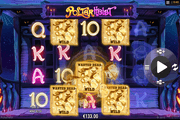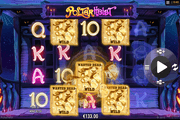 Polterheist Online Slot: Wild Additions and Symbol Replacements Boost Base and Bonus Games
Polterheist is a 100-payline online slot created by NextGen Gaming for the SG Digital platform. At only 50 coins per spin, players can activate all paying lines. Range of betting options to launch a spin, is from as low as 0.50 (.005 bet per line), up to a maximum of 50.00 (0.50 bet per line).
Payouts on winning combos though are multipliers of the bet per line. Here, all types of Ghost icons, award win-credits on as few as 2 alike images occurring in Reels 1 and 2. The Yellow Ghost has the highest range of payouts; awarding 5, 20, 100 or 500 win-credits on 2, 3, 4 or 5 of its image, aligned as winning combination. Still, a one-of-a-kind arrangement is a win, only if it commences from the leftmost or first reel.
To boost players' chances of raking in rewards from matched combos, 2 special random events may transpire at the start of a paid or bonus spin. Any one of the 5 top-paying Ghost Symbols may break-in and install stacks of its image in reels; replacing all other Ghost icons produced by the related spin.
In some other instances, several Wild Symbols will be added as enhancements to the reels; heightening possibilities of landing multiple substitute icons for the ongoing spin.
Through the Polterheist Game Info, NextGen Gaming gives a promise that those random events, transpire more frequently during free rounds.


Polterheist Online Slot: Wild Symbol and Haunting Wilds Feature
The Wanted Poster is the Wild Symbol. As such, it can represent any regular-paying icon, if to complete a winning arrangement of alike images. Poster Wilds though take positions only in Reels 2, 3 and/or 4. Nonetheless, there will be random instances when multiple Wilds will be added deliberately, in order to optimise a paid or bonus spin.
Haunting Wilds Feature – At the start of a random base or bonus spin, several Poster Wilds will scatter across the grid; signalling the pending occurrence of the "Haunting Wilds Feature". At that point, the emerging Wilds will be added to the centre reels; increasing the number of potential Wilds that may land as outcomes of that particular spin.
Polterheist Online Slot: Ghost Break-in Feature
A Ghost Symbol may populate the reels, replacing all other types of Ghost icons yielded as outcomes of an ongoing spin. At the start of an arbitrary paid or bonus spin, a randomly selected Ghost icon emerges. That particular Ghost icon will invade the reels. It will install stacks of its image in order to replace all other types of Ghosts that emerged as outcomes of that spin.
Polterheist Online Slot: Free-Spins Bonus Round
The golden Cash Safe icon is the element to look forward to as winning combination. Although requiring only three (3) Safe Symbols, it may take a while for a paid spin to yield 3 as one-time outcome. Safe Bonus Symbols emerge only in Reels 1, 3 and/or 5. The Bonus Round sets off, only if all three (3) reels display at least one (1) Safe Symbol each. If such an event transpired, eight (8) Free-Spins roll out as bonus round.f
During free games, all winnings garnered increases by 2x, 3x or 5x, whichever of those factors, turns up as random multiplier for a bonus spin.
The great news is that opportunities for raking in high-value bonus winnings also increase, when Safe Symbols come into view. One (1) Safe Symbol in place, is already a boon, because it awards one (1) Extra Free-Spin. Hitting 2 or 3 Safe Symbols via a single bonus spin is much better. Such an event brings on 5 or 8 additional Free-Spins, respectively.
On top of those bonus features, the "Haunting Wilds" and the °Ghost Break-in" events are likely to transpire via any bonus spin.