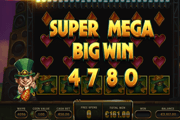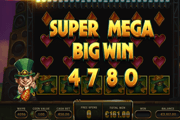 Rainbow Ryan Online Slot: Guitar-Playing Leprechaun Synchs Reels to Produce Identical Symbols
Rainbow Ryan by Yggdrasil Gaming presents 4,096 ways to win on matched images of Leprechaun accessories and Card Suit Symbols. A guitar-playing Leprechaun named Ryan takes players on a magical slot-spinning adventure via a 4×6 slot-grid configured with Rainbow Reels.
Rainbow Ryan Online Slot: Rainbow Reels
Rainbow Reels are adjacent columns containing the same set of symbols. They always occur in pairs; randomly during base games and constantly during a free-spins round. Occasionally, more than two (2) synced Rainbow Reels may take positions across the playing field. In such cases though, the third reel does not necessarily appear next to the default pair of Rainbow Reels. Still, they contain the same set of images that can still increase chances of hitting Big Wins via multiple winning combinations.


Now if by chance the grid produces a fourth Rainbow Reel, it will appear next to the third one. In fact, it is possible to land on 3 pairs, or 6 Rainbow Reels altogether, which results to nothing short of a Big Win!
Symbols need not conform to a pay pattern. Ryan's high-value accessories can earn coin credits on as few as two (2) identical images that land on the first and second reels. This denotes that if the Rainbow Reels occur in the first two columns, all top paying images in those columns, are guaranteed to bring the prizes awarded on 2-symbol wins. A Wild Symbol may appear in any reel. Wilds occurring simultaneously with Rainbow Reels, even more increase chances of striking notable wins.
Rainbow Ryan Online Slot: Free Games
Three, four, five, or six Free-Spins icons activate the Rainbow Ryan Free-Spins Bonus Game. The number of Free-Spins Symbols activating the bonus round determines the number of spins awarded free. Seven (7), ten (10), fifteen (15) or twenty (20) Free-Spins will then play on a bonus grid in which Rainbow Reels occur constantly after each spin.
Moreover, the Free-Spins Rainbow Reels have a tendency to increase in numbers. When more than one pair, or multiple Rainbow Reels emerge as outcomes of a bonus spin, the number of synced columns occurring thereafter, will not decrease. The Bonus Game grid may either produce the same number or produce more Rainbow Reels in the remaining free games. Such attribute therefore makes it possible for players to complete the bonus round with a grid filled with synchronized identical elements.
Ryan Online Slot: Wagering Options
Rainbow Ryan players are not required to place bets on all 4,096 possible winning combinations. It only takes 50 coins to cover all win lines during each spin. The coin values offered as choices of wager per spin are as low as 0.002, to as high as 2.00. The range of betting options therefore is broad, from as low as 0.10 per spin(0.002 x 50 coins) up to a maximum bet per spin of 100.00 (2.00 x 50 coins).
Although playing with smaller bets presents lower risks, higher bet values could bring larger returns during the Free Games. After all, the Rainbow Reels Feature that occurs constantly after each bonus spin, has great potential to bring positive results at no cost at all.