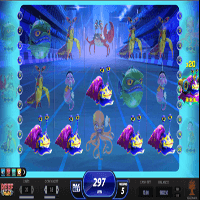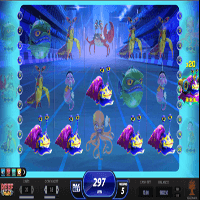 Reef Run Online Slot Free Spins with Progressive Multipliers of Up to 20x
Reef Run, is a delightful marine-themed, 5-reel real money gambling entertainment with 20 fixed paylines. Yggdrasil created charming cartoon-style illustrations of an Octopus, a Puffer Fish, a Snail, a Lobster, a Shrimp, and a Seahorse and used them as colourful reel icons that could form matched combinations.
Payline win occurrences are enjoyable to watch as the visually appealing marine creatures twirl and preen whenever they bring around coin rewards. The huge and mean-looking green Puffer Fish has the highest payout equivalent. It pays up to 1,000 coins for every 5-of-a-kind set of images emerging along a payline.

The big-eyed red Lobster and the peculiar Shrimp icons pay 500 and 400 coins respectively, for the same number of matched symbols. The gorgeous yellow Octopus, the outlandish purple Snail and the dapper Seahorse icons pay less at 200, 100, and 75 accordingly and at the most, but rather frequently as they are likely to appear across the reels more often.
Reef Run Free-Spins players can experience the greater significance of their corresponding paytable equivalents in the free games. This is because in the Reef Run Free-Spins round, their matched appearances trigger Win Multipliers that could progress up to 20x. The multipliers give players likely chances of hitting Super Big Wins, whilst playing with bet-free spins!
Reef Run Free Spins Game and Progressive Win Multipliers
A straightforward Free Spins (FS) Logo could activate the Reef Run Free-Spins Game. Players can have as many as 10, 20, and up to 60 free spins for every 3, 4 or 5 FS icons appearing correspondingly, and simultaneously as outcomes of a spin. There could be more, because the game awards additional two (2) free spins, whenever a free spin produces as outcomes, two (2) FS Logos.
Every Reef Run reel icon that completes 3, 4 or 5 of-a-kind combination/s in a payline and after a spin, triggers an initial 1x win multiplier for the winning marine creature. The succeeding payline wins achieved by each Reef Run character during the free bout, will progressively increase the Win Multiplier to 5x, to 10x and up to 20x.
To help players keep track of the Win Multiplier progression, each icon has its own symbol displayed outside the screen. The off-screen images indicate the current Win Multiplier attained and applicable to their respective matched symbol combos.
If more than one symbol landed a match along a payline after a bet-free spin, the Win Multiplier applied to the payout for each symbol will correspond to the current multiplier number indicated off-screen. If a symbol lands on multiple payline hits, then all payout equivalents of that particular symbol will be paid in folds, based on the current Win Multiplier attained.
Reef Run Online Slot Betting Options
Coin values ranging from 0.01 to 2.00 can be placed as bet on each payline. As all 20 paylines must be played, this denotes that the lowest bet possible on a single spin is 0.20 (0.01 x 20 paylines). The highest or the maximum stake on a spin therefore is 40.00 (2.00 x 20 paylines).