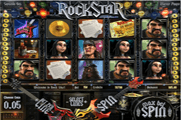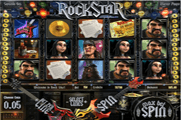 Rock Star Free Slots Game Review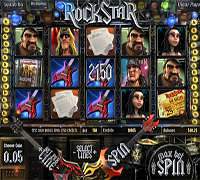 As children, we all dreamed about being rock stars performing in tours around the world and having millions of fans. Not all of us had the chance to do that but Betsoft allows users to engage in a virtual experience through this 3D video slot machine that is as close as possible to these dreams. This game will allow players to tag along a rock band and experience the life style and the glamour of rock and roll.

This 3D video slot is presented to players in five spinning, non-progressive, reels and thirty betting lines that players can activate. Players who want to place a wager will have to determine three things that form their final wager. They have to determine what coin size they want to use, choose the lines they want to activate and pick a number of coins to place on every single payline. According to that, the betting range on this game lies between 0.05 per spin and 150 per spin.
The game also comes with a wild icon, which has the ability to replace all other icons, with the exception of the other special symbols that the game has. This will aid players in creating a winning combo to get paid according to the paytable of the game. The symbols of the reels, the control panel, the bonus rounds and the background soundtrack are all inspired by the lifestyle and the world of rock and roll. For instance, the symbols include a contract, a ticket for a rock concert, a guitar, a golden record, band members and more. Even the intro of the game is themed around rock and roll and it is definitely worth watching. The design of the game is the same as players will see guitars that represent the spin button and the bet per line button and they will also see a drum set for the place max bet button. Even the bonus rounds have the same theme such as the Epic Solo Feature which is triggered for players who get 3x guitar symbols on the reels. so if you are a rock n roll fan, then this game is certainly worth trying it. Check out the game right here for free without having to make deposits of any kind as the game is available here with an endless amount of demo credits for players to give the game a test drive.