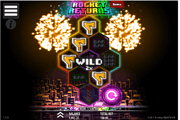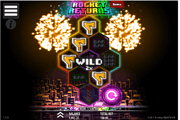 Rocket Returns : Unique Real-Money Slot Entertainment with Wild Multipliers and Free Games!
Rocket Returns is an online slot game of matching at least 4 identical symbols positioned next to each other within a polygonal board. Each symbol is presented as a six-sided or hexagonal tile, of which there are nine (9) in all. Furnished by Scientific Games Interactive, this online real-money betting entertainment uses classic style symbols such as the Lucky Number 7, and the BAR variations. Winning combinations need not follow any payline configurations for as long as they appear in adjacent positions.
The Blue 7 is the highest paying character; awarding x1, x5, x25, x50, x100, or up to x250 the Total Bet for every 4, 5, 6, 7, 8, or 9 adjoining identical symbols. The Orange 7 also awards x1 or x5 for every 4 or 5 same-symbol groupings, but pays lower at x20, x35, x75, or x200 the Total Bet for every 6, 7, 8, or 9 matches. The BAR-BAR-BAR, the BAR-BAR, and the BAR icons may be the least paying group of symbols; awarding up to x100 the Total Bet, yet appearing frequently as outcomes of this betting game.


This virtual slot game does not make use of the conventional 3-row by 5-column grid. Each of the nine (9) tiles spins individually, but simultaneously in one betting instance. The outcome of the spins will then be evaluated for any four or more-of-a-kind symbols positioned right next to each other.
Rocket Returns online slot features a Wild Symbol that not only increases the odds of hitting winning combinations with every bet staked. Aside from posing as alternative icon to complete a winning combo, any Wild emerging after a spin is configured with Multipliers that increase Wild-completed wins in fold.
Rocket Returns Online Slot: Wild Symbol
An image of a Half Stick Firecracker marked as Wild, randomly takes position as the center tile of the polygonal framework. In a base game play, a Wild that completes or forms part of multiple matched-groupings, multiplies the payout by x1, x2 or up to x3.
In a round of Rocket Returns free games, the Half Stick Wild Symbol may reveal a win-multiplier as high as x5.
Rocket Returns Online Slot – Bonus Game
A trio of Rocket Bonus Symbols, appearing after a spin, initiates the launch of the free games. The Rocket icon appears only at the Top, the Middle, and the Bottom positions. If all designated spots hold a Rocket Bonus Symbol in place, five (5) Rocket Returns Free Spins will be activated. In addition to the free games, an instant win of x1 the Total Bet will likewise be awarded.
During the bonus play, 1, 2, or 3 Rocket Bonus icon/s coming around in any position, can retrigger 1, 2 or 5 additional bet-free spins.
Rocket Returns Online Slot Betting Options
All nine (9) icons are in play with every bet staked per spin. The bet amounts range from 0.15 up to 150.00. The bet amount selected and staked on the spin that triggered winning combination/s, multiply the corresponding reward of the winning symbol/s.
The Blue 7 for one, awards 1x the Bet for every 4 matched adjoining symbols. If the amount wagered is at a minimum of 0.15, the monetary value of the reward is 0.15. If a 150.00 stake produced the 4-symbol win, the prize amount is 150.00. Players should keep in mind that the amount wagered does not influence the odds of winning with every spin. High-value bets merely increase the equivalent monetary rewards in proportion to the amount staked per spin.