Rock Star 3d slot Free Slots Game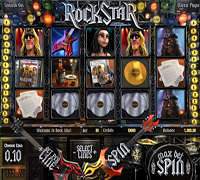 Rock Star 3d slot is a video slot game released on the BetSoft platform. This amazingly realistic 3D gaming experience is a wild ride of thumping bass and pounding drums combined with life-like graphics any music lover is sure to enjoy. Players will enjoy lots of opportunity for free spins with Rock Star's 30 reels and five paylines. Play the free slots for fun or cash in for real when you wager with currency.
This theme is sure to please. Combine the shredding guitars with the groupies, fireworks, and long-haired front man and players will swear they are actually watching a rock concert. All that's missing is the smell of smoke in the air. BetSoft even recreated the pyrotechnics concert goers are so fond of.

The symbols are the epitome of rock-n-roll. Crazy rock stars swigging whiskey, hot guitars, gold and platinum albums, sexy groupies, and VIP passes make up the bulk of the symbols. But keep an eye out for whiskey bottles, concert tickets, and the elusive recording contract will trigger the bonus.
How to Play
Free slot play is available for those who want to enjoy the eye-catching graphics and fun free spin play without any obligation. For those ready to wager chose from 1 coin minimum to 150 coins max bet. More timid players can settle for two cents per line while the rock stars can max out at $1 per line.
How to Win
There are several fun features of Rock Star. Watch for multipliers that will increase the winnings for players. A gold record will initiate the multiplier with double winnings. If you score a platinum record, the wins pay out at a 5x multiplier. And for those rock stars lucky enough to earn both a gold and platinum record their winnings pay out at ten times the money!
Bonus Features
The bonus round is triggered when a player hits on three or more VIP tickets. "Are You Ready to Rock?" You better be for this round of bonus play. Think Guitar Hero on this round, hit the notes as they cross the line and you stack up points which pay out nicely depending on how many notes you can hit.
Players that hit three or more screaming electric guitar symbols get the chance to try their hand at an "Epic Solo". Play the guitar to collect bonus points.
There is no scatter symbol, but the cool bonus features and multipliers more than make up for this.
There is no progressive jackpot, but the base game jackpot is won when the front man shows up. This long-haired blonde rocker dude will activate the jackpot when he appears 5 times on a payline.
Rock Star is a fascinating game to play; the graphics are simply exceptional compared to many of the other slot games on the market today. Any player that enjoys realistic gaming play will love Rock Star. Combine this with the 3D play, special effects, fun features, and wild rock music and this game is a real #1 hit.