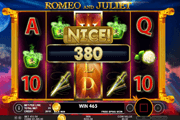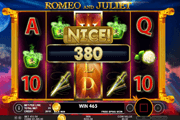 Romeo and Juliet Online Slot : Trigger 25 Free Spins When Romeo Wild Meets Juliet Wild
Romeo and Juliet online slot by Pragmatic Play captures the romance of Shakespeare's widely renowned play about a pair of star-crossed lovers. The principal reel elements include characters and objects reminiscent of the scenes that led to the tragic demise of Romeo and Juliet. Yet in this online slot, the romance between Romeo and Juliet brings positive results that greatly benefit slot players.
Here, the lovers appear as separate Wild Symbols, moving toward each other until they finally meet in a single cell. Each Wild has a dynamic attribute and capable of merging in a single cell to become a Full Wild Reel, as well as trigger the activation of the Free Games.


Romeo and Juliet Online Slot: Wild Symbols and Respin Feature
The Romeo image is a Wild icon that emerges only in Reel 1. A Romeo Wild in view triggers a respin whether or not a payline win was achieved by the substitute symbol. The Juliet image is also a Wild Symbol, but appears only in Reel 5 and likewise triggers a respin like the Romeo Wild.
Moving Wild Symbols Those Wild Symbols tend to remain visible during the respin and in the succeeding paid spins. Both shift positions one cell at a time until they reach the opposite end of the reel. Romeo Wild moves horizontally one cell to the right, while Juliet Wild moves similarly to the left. The Romeo and Juliet Wilds may appear on separate occasions, but it is possible for their images to move dynamically across the screen at the same time.
Expanding Wild Feature – During shifting events, if a Romeo Wild and Juliet Wild meet and combine in a single cell, the reel in which they merged will become a full reel WILD. Moreover, the union between the two Wild images initiates the awarding of the Free Games.
Romeo and Juliet Online Slot: Free Games
This online slot is based on a tragic romantic plot, but only as far as the elements go. When the Romeo and Juliet Wilds meet and expand into a Wild Reel, the event will also bring into play 25 free games.
During the free bout, the Wild Reel remains locked in place, while additional Romeo and Juliet Wilds will continue to appear in their respective reels. However, the new Wild icons simply serve as Extra Wilds, not capable of shifting positions or triggering a respin when in the bonus round. This denotes that a Free-Spins Bonus Round cannot be retriggered.
Romeo and Juliet Online Slot: Betting Options
Players may choose to increase each line bet by placing more than one coin, but up to a maximum of five (5) coins per line. Coin bets will then be multiplied by a denomination, of which the choices range from 0.01 to 0.50.
The number of coins multiplied by the coin denomination gives the Bet staked per payline. The Bet per Line in turn multiplies the coin wins gained from landing on matched groupings. A Bet per Line though has to be multiplied by 25, since all pay diagrams are in play with every spin.