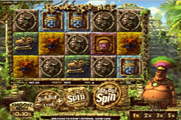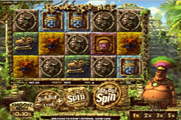 Rooks Revenge Free Slots Game Review
Betsoft Gaming has developed numerous games that are themed around the ancient civilization of the Mayans. Proving to be a very successful theme, Betsoft has created more games that have that theme including this game, Rook's Revenge. This game invites players to enjoy a wild adventure into the Mayan world in order to seek the hidden treasures of the Mayans and earn great rewards.
The game is presented to players in five reels and 30 lines but this game's reels will not spin when players click on the Spin button but they will start to fall from above.

The reels themselves are not just squared symbols but they come in the shape of rock blocks that have Mayan symbols and signs on them. Players will also enjoy a Mayan themed background soundtrack. Even the buttons of the control panel are in the form of Mayan ruins and rock antiques. Players will toggle between the different wagering options by clicking on these buttons in order to specify their wager. This wager can be as small as 0.10 per spin and as big as 125 per spin. This is why the game succeeds in appealing to a wide range of gamblers who have varying gambling budgets.
The symbols of the game will turn into stunning animations when they succeed in forming a winning combination of symbols.
The game has a great selection of bonus rounds, bonus features and special symbols. One of these special symbols is the golden mask symbol. This symbol has the ability to activate the free spins round of the game. This happens when players get three golden masks on a winning combination of symbols on one of the lines that players have activated.
Game Summary
Rook's Revenge slots revolves around a theme of an Ancient civilization in South America. The three dimensional figure of Rook, a portly chief attired in a colorful feathered headdress, dominates the bottom of the screen. As the reels "spin", symbols cascade downwards from above, each carved on the surface of a big rock (they don't revolve on a reel as they do in traditional slots); Rook gyrates and dances whenever winning combinations occur.
The video screen and sound effects reinforce the theme. Before the blocks of symbols tumble downwards, players briefly view a framed panoramic scene of majestic mountains and ancient temples. A rhythmic chant sung in a deep male voices plays in the background, interrupted only by the periodic rumbling sound of falling rock.
Bonus Rounds
Rook's Revenge offers a limited free spin feature, but due to a very generous multiplying factor this aspect can offer potentially significant winnings when the slots occurs in casinos as a regular video game offering; on line, in many venues, play takes place for game points only as a free slots.
The Golden Mask symbol functions as a scatter feature. Three appearing on the screen at one time will trigger a round of ten free spins. During this special bonus session, the main screen transforms into a rock wall. Players during free spin play enjoy enhanced multiplying factors for winning combinations. Additionally, they can re-trigger yet more bonus rounds.
During regular game play, Rook's Revenge offers an escalating multiplying factor with every successive winning combination in a row. It increases from 1x with the first win, to 2x with the second, to 3x with the third to 5x with the fourth successive win. Any losing spin of the reels interrupts this progression and sends the multiplier back to 1x. During free spin bonus sessions, a significant enhancement of multipliers occurs. The first win is multiplied by 3x, the second by 6x, the third by 9x and the fourth-in-a-row by 15x!
More Game Detail
With excellent animation and vivid, well-displayed imagery, Rook's Revenge offers five reels and 30 pay lines. It is a non-progressive free slots in most venues.
The symbols in the game appear as colored carvings on stone blocks. In addition to the golden mask scatter, a block containing an intricate question mark figures prominently in the game. It is a wild symbol, which substitutes for other icons to complete winning combinations. When five red blocks line up across an activated pay line, players obtain 2,500 coins in the game. Five purple blocks produce 1,000 game coins. Lesser combinations of symbols also generate winnings.
One of the most interesting features of Rook's Revenge concerns that fact that winning combinations of symbols literally explode on the screen. The blocks of stone shatter and disintegrate. This situation not only lends excitement and visual interest to the game, but if affords an advantage to players, as well: because symbols cascade downwards and don't "spin" in a classic slots sense, a disintegrated winning combination will be filled by more cascading blocks from above, and these symbols, in turn, may form new winning combos with the blocks already on the screen. Given the multiplier factor, this aspect of the game proves potentially very rewarding for players. Rook's Revenge slots attracts many enthusiastic fans!