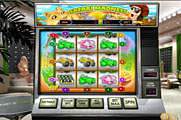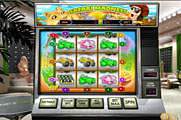 Safari Madness slots for fun
Safari Madness Free Slots is a 5-reeled slot machine that comes to players from the rich and the highly rewarding portfolio of games of Net Entertainment. This is why as soon as players open the game, they can expect to enjoy a visually satisfying and an exciting video slot machine that has a lot to offer to them in terms of payouts. Despite the fact that the game has 5 reels, it is presented in a retro environment, this is why players will notice that the game has 5 mechanical reels with manual looking buttons that resemble the ones that players used to find at land based casino slots. This is also why players will notice that the slot machine itself is located in a Las Vegas casino with other rows of machines in the background as well as the walls and the carpet of the casino.
The theme of the Slots for Fun
The game is called Safari Madness because it is themed around a wild adventure into the safari deserts. Players will be able to go on that trip through this slot by placing a bet and spinning the game's reels. The placement of the bets can be done under the reels through the buttons under the reels. They will choose how many of the slots' 9 lines do they want to activat. There is also the coin value icon that players want to use to place these bets. There is also a button that can activate all lines and a button to place the biggest bet that the game can handle.
The symbols that will appear on the reels and the lines of the machine are all inspired by a trip to the safari desert. This is why they include a crocodile, a hippo, a lion, a safari car and a safari enthusiast. These symbols have a lot of payouts to offer to players whenever three matching ones land on the same payline that players have placed bets on before they starting spinning the game's reels.
The different pays that these icons can give can be viewed at the payouts table of the slot. This payouts table can be opened by clicking on the View Pays icon. Players will see all of the different line payouts as well as the special payouts that players can earn during the special feature of the game. The biggest normal pay is equal 300x the original bet while the biggest payout during the special feature is equal 3000x the original bet.