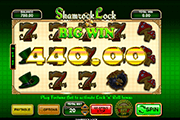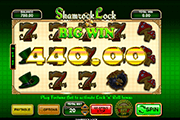 Shamrock Lock Online Slot ; Mystery Symbols plus Wonder Spins can Bring Big Wins!
Shamrock Lock is an inspired Games Irish-themed, 10-payline online casino offering. The 3×5 grid has only a handful of regular paying elements that may land as payline wins. One-of-a-kind images of the Shamrock Lock Game Logo, the Lucky Number 7, a Pot of Gold, a Horseshoe. Leprechaun's Hat and Red Mushrooms, occurring in groups of 3, 4, or 5, whilst aligned in a payline starting from the leftmost reel earn corresponding coin credits. All credits collected are then multiplied by the amounts staked as Bets per Payline or Line Bets.
This Shamrock Lock game has several attributes that boost chances of landing a payline win. First off. all paying symbols and the Wild icon, appear as stacked elements in a single reel. Each stack readily furnishes 3 identical images in a single column; or less, if only a portion of the Stacked Symbols is in view. Secondly, a Mystery Symbol, represented by a Question Mark (?) can increase the odds of hitting payline wins. The latter usually lands in multiples, which subsequently transforms into an image of the same type. Lastly, a full display of Stacked Wilds triggers Inspired Game's proprietary Wonder Spins Bonus.


Actually, the Stacked Wild Symbols emerge only in Reel 3. Each Wild in place can be of use as substitute icon for purposes of completing a winning payline arrangement.
Shamrock Lock Online Slot: Wonder Spins Bonus
The Wonder Spins Bonus Feature may carry on as two (2) consecutive bet-free turns. It is a bonus event because if the first respin does not produce at least one (1) payline win, a 2nd respin follows through.
The first Wonder Spin plays on a grid in which full-reel Stacks of Wilds are in place in Reel 2 and Reel 4. If the other reels return with icons that can coordinate with any Wild cell, payline wins can be achieved. At that point, the Wonder Spin Feature ends.
On the other hand, if the first Respin does not result to a win despite the Reels 2 and 4 Stacked Wild enhancements, the feature continues with a second Respin. This time, full-reel Stacked Wilds will take strategic positions in Reels 1, 3, and 5. The Wild icons in place therefore can easily complete winning 3-symbol combinations along with the images displayed in Reel 2. Payline groupings may even expand into higher paying, 5-of-a-kind combos if any of the 3-symbol groupings links to a compatible match in Reel 4.
Shamrock Lock Online Slot: Mystery Symbols
Occasionally, the reels may return with cells that contain a Question Mark (?). This icons are the so-called Mystery Symbols. All such elements in view subsequently transforms into a single type of regular paying symbol; likely bringing rewarding results. Although Mystery Symbols will not reveal Wild icons, this feature may occur during a Wonder Spin event.
Shamrock Lock Online Slot: Fortune Bets with Lock and Roll Feature
Shamrock Lock slot players seeking for additional reel-spinning adventure may try their luck by staking Fortune Bets. This type of betting mode increases the current Bet selection by fifty-percent (50 %). The additional cost comes with a more potent win-boosting feature called Lock and Roll. The feature though activates arbitrarily and not necessarily guaranteed to occur with every Fortune Bet Spin.
Lock and Roll – is a Fortune Bet random spin outcome, in which Reels 1, 3, and 5 return as synchronized reels, containing 3 rows of 3-of-a-kind symbol groupings.