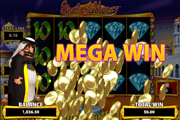 Sheik Yer Money Online Slot – Sheik Shakes Reels for Bigger Wins!
Sheik Yer Money online slot is a 5-reel, 10-payline Barcrest creation delivered via the SG Interactive gaming platform. The reels present a colorful tableau of precious gemstones and the conventional A, K, Q, J and 10 symbols, set against a backdrop illustrating a golden Arabian desert.
The game has two (2) main features. One is a magic lamp that transforms into multiple identical symbols to readily form winning payline groupings. The other is a Sheik who shakes the reels to rearrange the icons in order to create more wins! The great news is that the game pays for three or more matched symbols consecutively appearing in a win line, regardless of where the matched groupings originated.
Sheik Yer Money Wild Symbol
The game's joker card is a tile simply marked as Wild. A regular game play, occasionally and arbitrarily produces a Wild Symbol or a Stack of Wilds to help players complete matched-symbol groupings aligned in a payline. In order to increase the frequency of Wild Symbol occurrences, as well as make potential payline wins more lucrative, Sheik Yer Money slot players have the option to spin the reels via the Big Bet Game mode.
Sheik Yer Money Online – Mystic Lamp Feature
An icon bearing the image of a Mystic Lamp appears randomly in any position across the reels. The icon tends to appear in multiples, to transform into any of the game's regular paying symbols. The Mystic Lamp transformation occurrence could likely result to multiple matched payllne wins.
If the reel-spinning actions are launched via the Big Bet Game Mode, the Mystic Lamp icons appear more frequently and abundantly.
Sheik Yer Money Online Slot – Sheik Shakes Reels Feature
Take notice of a Sheik character peeking cautiously on the right side of the slot screen. Eager to come out and make a grand appearance, the Sheik will do so once his sees his cue.
The Sheik comes into full view if a Mystic Lamp Transformation did not produce a win. Once he does, he will shake the reels vigorously in order to rearrange the current arrangement of the reel icons. Technically, the shaking action is like a respin, as the new reel icon positions will be evaluated for any payline wins.
Inasmuch as the Sheik's Reel-Shaking action is dependent on the results of a Mystic Lamp occurrence, slot players can expect to experience the Sheik Reel Shake actions more frequently during Big Bet Games.
Sheik Yer Money Online Slot – Big Bet Game
Barcrest's Big Bet Game offer comprises a series of spins played as a single set and activated by a single bet. The BB Button alongside the slot grid, gives players access to the Big Bet Spins betting menu. The BB game options indicate the number of BB Spins to activate, the Total Bet per BB Game, and available win-boosting features that will occur in every set of BB spins.
• 10 Big Bet Spins – Mystic Lamp Feature of transforming into any icon, including Wild Symbols.
• 15 Big Bet Spins – Mystic Lamp Feature + Extra Wild Symbols
• 20 Big Bet Spins – Mystic Lamp + Locking Extra Wild Symbols
• 25 Big Bet Spins = Mystic Lamp + Locking Extra Wilds and exclusion of the lesser paying 10, J and Q icons from the symbol-transformation events.
Sheik Yer Money - Adorable Sheik Shakes Reels for a Second Chance Win!
Sheik Yer Money online slot is an entertaining real-money game featuring Mystic Lamp Symbol Transformation feature and Sheik Reel-Shaker that gives players a second chance of landing on payline wins!