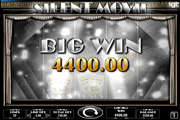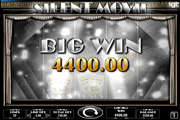 Silent Movie Online Slot : Throwback-Themed Game with Four Free-Spins Bonus Rounds
Silent Movie by IGT is a throwback-themed online slot inspired by motion pictures created by the early film industry. The 5-reel slot configuration mimics the silver screen of a nickelodeon theater, showing illustrations of characters and objects related to vintage motion pictures.
Four (4) free-spins bonus games can be activated separately via different Bonus Symbol combinations. Each bonus game is introduced with a silent movie film clip that also serves as game-play motif. Silent Movie slot players are in for a fun and rewarding real-money gambling engagement, as this IGT slot offers a variety of generous reel-spinning games with awesome win-boosting elements.


Silent Movie Wild Symbol
The Silent Movie Game Logo is the WILD icon that can substitute for regular-paying symbols when looking to complete a winning payline combo. However, it emerges only in Reels 2, 3, 4 and/or 5.
Silent Movie Online Slot: Bonus Game Trigger Symbols
Each of the four (4) bonus rounds requires pairing two (2) Theater Ticket Bonus Symbols plus any one of the Silent Movie Bonus Game Symbols: Dr. Jekyll & Mr. Hide, Moon, Mabel & Suitors, and Keystone Cops. All Bonus Symbols emerge as colored images and clearly labeled as BONUS icons.
In addition to a set number of bet-free spins, Scatter Pays at 3x the Total Bet will be awarded for every Bonus Symbol Trigger combinations activating the feature.
An ongoing free-spins round can be retriggered by landing three (3) Theater Ticket Bonus Symbols in any spot across the reels. The Theater Ticket trio also awards Scatter Pays.
Silent Movie Online Slot: Free-Spins Bonus Games
Prior to launch of a bonus round, players will select one of three (3) Ticket Booths presented, to reveal the number of Free-Spins or Win-Multiplier to receive as bonus prize:
Dr. Jekyll & Mr. Hyde Silent Movie Bonus Game awards three (3) up to six (6) WIN SPINS paid at 3x the actual win value. The number revealed by the Ticket Booth indicates the number of winning spins that players will receive as guaranteed bonus wins. On the other hand, the number of reel-spins to launch is indefinite, as players can launch as many spins necessary to reach the guaranteed number of Bonus Win-Spin Rewards.
A Trip to the Moon Bonus Game – Here, the Ticket Booth awards 10,11,12,14 or 15 free-spins played via a set of bonus reels enhanced with additional Wilds. In this round, Reels 2 to 5 have been configured with more WILDs in order to increase the number of substitute icons available after every bonus spin.
A Muddy Romance Bonus Game awards 6, 8, 10 or up to 12 free-spins played in bonus reels enhanced with more Mabel and Wild Symbols. This is because the bonus game will award additional Scatter Wins on every three (3) or more Mabel and/or Wild Symbols emerging as outcomes of a bonus spin. The Silent Movie Game Info states that it is possible to receive Scatter Rewards for multiple Mabel and Wild icons, emerging simultaneously after a single spin.
The Keystone Cops Bonus Game activates 10 free-spins as bonus reward. The corresponding Ticket Booth revelation indicates the Win-Multiplier factor applicable to all bonus winnings. After the 5th Bonus Spin, the multiplier factor will be doubled, therefore increasing further the win value that can be gained from the remaining bonus spins.