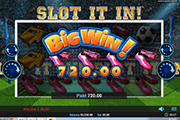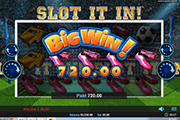 Slot It In Online Slot: Hit Pay Dirt with Stacked Symbols in a Pay Anywhere Betting Game
Slot It In online slot by Realistic Games combines Stacked Symbols and Pay-Anywhere Features to furnish an exciting football-themed game. Images associated with football, land on reels either partly, or entirely stacked in columns. In a game that pays on combinations occurring in any payline position, Stacked Symbols of the same type in one or more reels, will likely hit pay dirt.
Aim to land on winning combinations comprising Stacked Trophy Symbols. Any of 10 paylines that fill with 3, 4 or 5 of the Trophy icon, garners the highest payout; 5x, 100x or 250x the Line Bet, respectively. The Line Bet being the Total Bet divided by 10 paylines. Make it your goal to win via this icon during a bonus round, as they could easily come around as Big Winners. After all, the bonus game has a unique feature that guarantees winning outcomes.

This game though has no Wild Symbols to offer. Nonetheless, the abundance of alike Stacked Symbols landing after a spin and the flexible win-way positions, more than make up for the lack. In fact full-reel stacked images also pose as trigger symbols that can activate the Slot It In Bonus Game.
Slot It In Bonus Game
Watch closely when full-reel Stacked Symbols start landing as outcomes of every column. If each of the five (5) reels return after a spin with a full display of 3-tier images, the bonus feature sets off.
To illustrate by way of example, let us say Reels 1 to 5 correspondingly display 3-tier Stacked Yellow Jerseys, Stacked Whistles, Stacked Blue Jerseys, Stacked Red Jerseys and Stacked Soccer Balls. The outcome or any other similar full Stacked Symbol displays in all reels, activate the Bonus Game.
The special event commences by selecting a symbol from any of the stacked elements that triggered the feature. A Highlight passes repeatedly over each reel, as a way of randomly choosing an icon. The moment the Highlight stops moving, the Stacked Symbol on which it landed becomes the Principal Bonus Game element.
Respin Bonus – A Respin launches once an icon has been selected. However the reel containing the designated Stacked Symbols remain stationary, while all others will respin. Realistic Games gives a guarantee that 1 up to 3 reels will return with the designated symbol.
Slot It In Online Slot: Wagering Options
All 10 paying lines requires staking a wager ranging from 0.20 or higher, up to a maximum of 100.00 per spin. Payout Values though, are multiples of the amount staked as Line Bet and not the Bet per spin.
The Trophy icon, for one, awards 1.00, 2.00 or 5.00, accordingly, which are equivalent to 5x, 100x or 250x a minimum Line Bet of 0.02 (0.20/10 paylines). In the same way, a Bet per spin of 100.00 is equivalent to a Line Bet value of 10.00. If the wager lands a 3, 4 or 5-symbol Trophy Win, the 500.00, 1000.00 or 2,500 reward, is equivalent to 5x, 100x or 250x the 10.00 Line Bet.