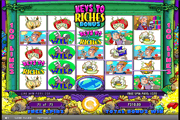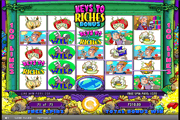 Stinkin' Rich Online Slot – The Remastered Version of IGT's Stinkin' Rich Classic Slot Machine Game
Stinkin' Rich online slot delivers a remastered edition of an IGT classic slot machine content carrying the same title. This online casino game awards free-spins for every payline win coinciding with the activation of the bonus round. This denotes that the greater the number of payline hits occurring on the spin that triggered the bonus game, the higher the number of bonus spins awarded.
Stinkin' Rich Online Slot Reel Icons, Wild Symbol and Scatter Symbol
This IGT online video slot appears to run on a storyline about a nouveau riche family who made their fortune by trading trash for cash. The image of a plump elderly person, presumably the Grand Dame of the wealthy family, is the highest paying icon. It awards as many as 10,000 coins for a 5-of-a-kind payline match. The Patriarch pays 1,000 coins, while the Male and Females Scions both award 500 coins at the most.
[/CBC]
This online slot carries on the stinky-theme by using icons of objects generally regarded as having foul or unpleasant smell; such as a pair of Stinky Rubber Shoes, a Rotten Egg, a Stale Fish, Garlic, and Blue Cheese.
Stinkin' Rich Wild Symbol A female skunk, represents two special icons. One of which is the Skunk Wild Symbol that pose as substitute for regular icons if doing so completes grouping/s of identical symbols.
Stinkin' Rich Scatter Symbol is the other Skunk special icon. It awards Scatter Pays of 3, 20, or 100 coins multiplied by the Total Bet, for every 3, 4, or 5 of such symbols emerging simultaneously as reel outcomes.
The Skunk Wilds, however, cannot replace the "Keys to Riches" and the "Trash for Cash" icons because those are special game symbols that trigger the Free-Spins Bonus round and a pick-a-bonus game.
Stinkin' Rich Online Slot "Keys to Riches" Free-Spins Round
This remastered Stinkin' Rich IGT slot game awards an almost indefinite number of free-spins, as the bonus spin rewards depend on the number of payline wins produced by the bonus game triggering spin.
In a bonus game triggering event, each payline win earns Stinkin' Rich bonus players a set of 5 free spins. Three (3) "Keys to Riches" icons forming a 3-of-a-kind payline combo in Reels 1, 2 and 3 automatically award a set of five (5) bonus spins. If the spin produced payline wins in addition to the "Keys to Riches" payline combo, the total number of payline hits produced by that particular spin, multiplies the set of five (5) bet-free spins.
Should a bonus spin produce another "Keys to Riches" trigger combo, the round will extend in accordance with the additional bonus spins produced by the retrigger spin. Stinkin' Rich bonus game players may activate up to 325 spins, or less if the total bonus winnings has reached the bonus round prize cap.
Stinkin' Rich "Trash for Cash" Picker Bonus Game
Three (3) "Trash for Cash" icons appearing simultaneously in Reels 3, 4 and 5 trigger a Picker Bonus segment, Each "Trash for Cash" icon holds a mystery prize, which can either be a value multiplier or a cash reward. A player's first pick will reveal a multiplier factor, which may reveal a factor anywhere from 1x up to 40x, while the two unselected "Trash for Cash" icons will reveal cash prizes.
"Trash for Cash" bonus game players will then collect a bonus reward equivalent to the sum of the cash prizes revealed, paid out in fold based on the value multiplier unraveled.