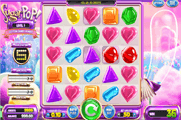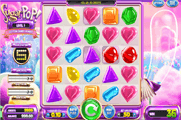 Sugar Pop Free slot Games
Sugar Pop is a 5-reeled 3D video slot machine that is powered by none other than Betsoft Gaming. The game falls under the 3D Arcade slot category as it mixes between arcade games and slot machines. This is because the game has no paylines like usual slots or ways to win, as players will form winning combos in any position on the 5×5 grid of the game.
They can earn a payout whenever they get 3 similar icons adjacent to each other, they don't have to be in horizontal or vertical form as long as there are 3 adjacent matching icons in any location. This means that the winning opportunities are endless with a 5×5 grid filled with symbols. When they do that, they will be able to earn a great payout that depends on the number of symbols and the symbol itself.

3D Sweets – Free slot Games
All of these symbols represent different candy sweets, which is apparent from the name of the game sugar Pop, as all of these symbols are filled with sugar and sweetness. These candy icons have different colors. There is the heart shaped pink candy which gives players 4 coins the yellow candy gives 10 coins, the blue candy gives 15 coins, purple triangle gives 6 coins and much more. The biggest payout is given by the red candy that gives 20 coins. These payouts are for each single candy symbol that was matched.
On top of all of that, the game has the rolling reels feature that can be found at other slots. This means that whenever a winning combo of matching candy symbols are formed, these matching symbols will disappear and new ones will fall from above to fill the gap giving players another chance of matching candy icons to get paid.
Placing the wagers is done under the grid as players will choose the number of coins they which to place on the round as well as the value of these coins. After placing the bets, players will be able to start the game so they can start enjoying the experience and rack on the great rewards that the game has in store.
The game also has a bonus feature which is called the Lollipop feature, which is a very convenient name for a bonus game for a game that is themed around candy and sweets. There are plenty of other bonuses that depend on the level players are on. They can progress through the levels as they earn more payouts.
There is the bomb candy feature, which happens when players manage to get 5 matching symbols of a candy. Players will get paid and a bomb of that candy color will appear and if it is then matched with a similar candy, all of the candy of that color on the grid will explore giving players plenty if payouts and more chances of achieving a win.