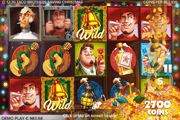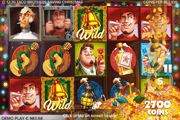 Taco Brothers Saving Christmas Online Slot: Wacky Mexican Brothers Running Wilds Again!
Taco Brothers Saving Christmas online slot is basically the Christmas Edition of Elk Studio's original Taco Brothers title. The Wacky Mexican brothers Paso, Pepe, and Pico are back on their mission to get back the pesos and tacos forcefully taken away by the evil Captain Diaz from the townspeople of Sta. Maria. Now available at NextGen powered online casinos, this game still has 243 ways to win loosely, as 3 or more identical-symbols need only to line up consecutively starting from the leftmost reel.
All images and video clips have been modified to present the Christmas theme, whilst observing the same game mechanics. Players are still given a Second Chance to hit the three-symbol Bonus trigger-combination. During the free round, the three heroes of Sta. Maria will once again be pulling off their caper by moving from one reel position to another as Running Wilds. The despicable Capitan still appears to stop them on their track, but could be prevented by a pretty Mexican Senorita.
[/CBC]

Taco Brothers Saving Christmas Online Slot: Wild Symbols
Two Wild Symbols are available to use as substitute icons, as means to complete winning arrangements. The Bell Wild appears occasionally, merely posing as eligible alternative image when positioned in a reel adjacent to consecutive identical symbols.
The Taco Brothers Logo is also a Wild card usable as substitute for any regular-paying icon. Yet when two (2) of such symbol appears in combination with two (2) Bonus Symbols, a Second Chance Re-spin will be awarded.
A Second Chance Re-spin is a free turn that gives players another chance of landing on another Bonus Symbol. That way, players will be able to proceed to the "Wild Escape Bonus Game."
Taco Brothers Saving Christmas Online Slot: Bonus Game Symbol and Free-Spins Round
The Bonus Game Symbol is represented by an image of a Cash Safe. Three (3) Cash Safe totems activate the "Wild Escape Bonus Game." Similar to the original, this Taco Brothers Saving Christmas free round has no specific number of bonus spin rewards. The duration of each round depends on the fate of the Taco Brothers as Running Wild Symbols.
As Running Wilds, Paso, Pepe, and Pico serve as special Wild icons. Individually, and one after another, they will be moving from one position to the next in a specific row starting at Reel 5. Pico makes the first run, traversing across the last row. Pepe's run takes place in the second row. Paso makes the last run across the topmost row. The bonus spins continue until all three Taco Brothers have traveled the entire length of their respective row.
However, the vile Captain Diaz could cut short a brother's Running Wild feature if his image appears as outcome of a bonus spin. The plunderer of Sta. Maria will put the current Running Wild Taco Brother behind bars, cutting short the Running Wild feature for that fellow. The Bonus Game ends if all brothers are already behind bars.
Additional Free-Spins -Yet if the pretty Senorita in Red is also in place during the lock-up event, she could release the Jailed Taco Brother from prison. Once freed, the freed Taco Brother Running Wild goes back to its original position, and restarts his Wild run.
Wild Escape Win-Multiplier – At the start of each bonus session, a Bomb detonates. The explosion will reveal a Bonus Win-Multiplier ranging from 1x to 3x. The Multiplier Factor unraveled by the exploding bomb will then apply to all winnings realized from the bonus round.