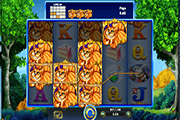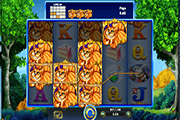 The Cheshire Cat Online Slot: Stacks of Wilds and Randomly Chosen Regular Symbols in Base and Bonus Reels!
The Cheshire Cat by Williams/SG Interactive is a 40-payline online slot configured across a 4 x 5 grid. Although themed after the popular 18th century fantasy novel "Alice's Adventures in Wonderland", this game features the Cheshire Cat as principal character. Well-known for its fixed mischievous grin, the image of the ever-grinning tabby feline comes in play as the highest paying icon. Alice, the Caterpillar, the White Rabbit, the Drink-Me Potion and the Eat-Me Cake are medium-pay elements. Nonetheless, whether with high, medium or low payout equivalents, all have potential to create notable winning events.
Through this game's Mystery Symbol, any of those regular images may occur after a spin, as Stacked Symbols in multiple reels. Every spin initiates the selection of a reel element to add as stacks of identical icons in every reel. The Mystery Symbol is an important aspect of the Free Games. The Bonus Round makes use of a Bonus Reel to determine the arrangements with which Mystery Stacked Symbols and Wild Reels will take position. The great news is that The Cheshire Cat Free Games come with a Bonus-Win Guarantee!


The Cheshire Cat Logo
is Wild Symbol and often appears in part, or in whole as Stacked Wilds. Aside from performing substitution actions when occurring in a payline, the Logo Wild can combine asa  payline win. Three, four, or five Wilds pay 10x, 50x, or 500x the value of the Line Bet. In the Free-Spins Round, the Cheshire Cat Logo Stacked Wilds, frequently occur as Wild Reels, in strategic reels specified by the Bonus Wheel.
The Cheshire Cat Online Slot: Stacked Mystery Symbols
This special win-boosting attribute randomly chooses an image to infuse as Stacks of Identical Symbols in all reels. When playing in a normal game mode, the behind-the-scene addition of Stacked Symbols carries on arbitrarily. During the free round, Stacked Mystery Symbols and Stacked Wilds are sure to appear in specific positions after any bonus spin.
The Cheshire Cat Online Slot: Free Games with Bonus-Win Guarantee
Varying numbers of bonus spins comprise a round of free games. The number of spins awarded depends on the number of Bonus Wheel icons triggering the special event. Three, four, or five Bonus Wheels scattered in any spot across the grid, correspondingly activate 5, 10, or 20 Free-Spins. The Bonus Wheel though no longer appears as active element during the free bout.
In addition, qualifying bonus-game players receive Scatter Rewards equivalent to 10x or 20x the Total Bet, on a 4 or 5-symbol Scatter combo.
The Bonus Round initializes by activating a large Bonus Wheel. Each wheel segment contains a diagram. Every diagram shows how Mystery Stacked Symbols and Wild Reels will appear as potential outcomes of a bonus spin.
Array 1 – Stacked Mystery Symbols may occur in Reels 1, 3, and 5. Two Wild Reels are bound to appear in Reels 2 and 4 after a bonus spin.
Array 2 – This diagram shows that Reels 1 and 2 are possible positions in which two Wild Reels may land. That being the case, the Wild Reels may combine with Stacked Mystery Symbols that take positions in Reels 3, 4, or 5.
Array 3 – This diagram indicates that one or more Wild Reels may appear in Reels 2, 3, 4, or 5.
Array 4 – Only the center reel (Reel 3) is reserved for Wild Reel occurrences. However, this may prove to be the most advantageous, in light of its strategic location.
The Cheshire Cat Bonus-Win Guarantee – Every bonus round activated is certain to conclude with a reward of at least 10x the value of the current Total Bet. In the event, a bonus round ends with less than the amount guaranteed, the winnings will automatically increase to a sum equal to 10x the Total Bet value.