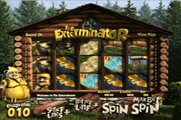 The Exterminator Free Slots Game Review
Being a homeowner, you will have to face the terrible insect and animal infestations that can occur. There is only one way to fight these infestations, this way is calling the exterminator. The exterminator is a man who has the needed tools and the experience to deal with such problem. Betsoft Gaming allows players to enjoy a video slot experience that has this theme, the exterminator theme.
It might sound like a weird and a new theme for some, but this is what Betsoft Gaming is all about, bringing new themes and concepts to the gambling world. This is why players will see an exterminator in his famous yellow suit standing at the side of the reels. He has his tools and everything he needs. He will regularly chase away animals while interacting with the combinations that players achieve.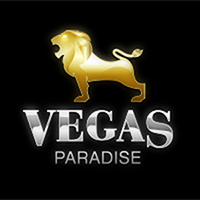 Overall Rating
PLAY NOW
Vegas Paradise
Welcome Bonus of $€£ 200 for all New Casino Players
T&C Apply 18+
Hottest Casino in the United Kingdom
Huge collection of online slots and table Games
Extremely High Payout Percentage
Monthly Promotions and Free Play
The game is presented to players in a 5-reel setup and offers players thirty betting lines that they can place their desired wagers on. The symbols that appear on these lines and reels are all inspired by the theme of the game, as well as the control panel of the video slot. These symbols include footprints, maps, trucks, a welcome mat and trashcans. Some of these 3D symbols will turn into beautiful animations whenever they are a part of a winning combo. This is not all, as the game has plenty of rewarding features and special symbols that can trigger these features. For example, the foot print symbol is a very unique symbol. Players who succeed in getting five of them spread on the reels of the game will be able to trigger a bonus round, the free spins feature. The winnings that players earn during the free spins can be multiplied with a multiplier than can reach 5x.
Betsoft has brought you many exciting and new concepts in its slot machine games and the exterminator is one of many. At the beginning of the game, you will get to watch an opening animation that shows you two of the main characters, the exterminator and a racoon. It will remind you a lot of the classic movie Caddyshack as the cartoon plays out and the exterminator has to outwit the sly little bandit before its too late.
As the exterminator in this free slots game, you will face hoards of insects as they infest homes as well as other animal pests. If you've ever had bugs or animals pests in your home, then you know what a problem they can be and were all but forced to call an exterminator. Well now you get the chance to take on that role and annihilate those critters, but in a much more fun and exciting way. Only you have the tools necessary to get the job done and homeowners are counting on you. The exterminator can be seen standing off to the side of the game donning his infamous yellow suit. He is prepared by having all of his tools at the ready and will be seen chasing away all of the little creepy crawlers and pests as you roll the different combinations of symbols.
As the player of this interesting game, you will have a 5-reel setup that offers thirty betting lines for you to place your wagers on. There are many different kinds of symbols in this game that range from such things as trucks, footprints, maps, trashcans, and even a welcome mat. Each symbol represents something unique and some of them will even turn into an amazing 3D video display for you to watch as the story unfolds before your eyes. This typically happens when the symbols are part of a winning combo, of which there are many. Players that are lucky enough to get five of the footprint symbols in a row will then be able to play the bonus round, which has the free spins feature. During the free spins round, players have the opportunity to multiply their winnings by five.
This game is well designed and plays through smoothly with all of the great features that you would expect in a slot machine game. You won't be sorry when you give this game a try for the first time. It will draw you in and before long you will enjoy playing the role of the exterminator as you get any of the several winning combinations and watch the exterminator go to work. Don't let those pesky racoons get the better of you. Keep on playing until every last pest is gone and you win the jackpot. Players who have played this game are well pleased with it and enjoy the story.
Exterminator Free Slots
The Exterminator free slots is a fun new online slot game by Betsoft where you play the role of none other than the exterminator himself.