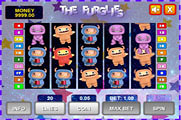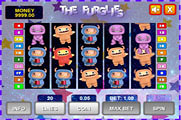 The Furglies Free Slot
The Furglies Free Slot is a brand new video slot machine that has a unique theme and a unioqye gaming experience that players will surely enjoy. The game is on offer here for free at FreeSlots.Me so players can get a taste of what the game has to offer before they place real money bets on any of the casinos that host the game.
The theme of the Free Slot
The video slot machine is themed around the Furglies, which are a bunch of beautiful, tiny, and fur covered aliens who will join players in this great gaming experience. The game has a pretty sleek design that is both, exciting and mesmerizing. This is why players will get to enjoy a highly entertaining video slot machine that they will certainly enjoy as it offers them an immersive and a highly rewarding experience.
The game has a format of 5 reels and a total of 20 bet lines on which players will place their wanted bets. These wagers can be placed by players as they go through the betting options of the game that are located under the reels. They will specify how many of the twenty lines they want to activate and the value of the coins that they want to use. There is also the helpful Bet Max button that can be clicked on so players can easily place the biggest bet and spin the reels at the same time. Players will then click on the spin button to start the game. Once the reels start to spin, the symbols will start forming combos. Players who manage to get 3 similar Furglies on the same line from the left to the right will have the chance to claim a prize. The amount of this prize depends on the symbol that was matched, and how many icons were matched. Players can see these pays and the special icon that the game has at the paytable of the game which players can open by clicking on the Info button that is found on the left side right under the reels of the game.
The symbol that gives the highest payout that players can earn at this game is the green creature. Players who get 5x of this symbol on the same payline of the slot will be able to claim a total of 5000 coins.
Apart from the generous line payouts that players can claim, there is a symbol that can help players from these combos which is the wildest of the Furglies, the colorful guitarist. This symbol is going to aid players in their quest of forming winning combos. This icon would achieve that by substituting for any of the other icons that land on the game's reels to form a winning combo. It will only replace the icon that would create the highest payout.