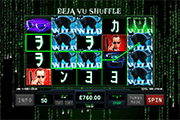 The Matrix Online Slot: Deja Vu Shuffle and Free Games May Bring Massive Wins!
The Matrix branded online slot by Playtech furnishes 50 paylines in which characters from the 1999 hit sci-fi movie land as top-paying symbols. Agent Smith, Morpheus or Trinity land as single cell or full-reel images in any reel. When occurring as winning symbols, the screen runs actual film clips that showcase the Matrix figure. Of the three icons, Agent Smith awards the highest payouts of 60, 150, or 250 credits, whenever 3, 4, or 5 correspondingly align in a payline starting from the leftmost position. In one of two (2) Free Rounds, the bonus reels will be enhanced with an overload of Agent Smith icons.
Neo, the principal character of the Matrix film, represents the regular Wild Symbol. Actually the Neo Wild has the highest Paytable Values. Three, four, or five Neo Wilds forming a winning combination award 100, 300, or 500 credits, respectively. Two (2) other images occur as Wild Symbols but as special power-up elements of a related Bonus Feature. The "Deja Vu Shuffle", a main game bonus feature, introduces the Black Cat Wild. On the other hand Sticky Sentinel Wilds invade the Nebuchadnezzar Unlimited Free-Spins Reels.
The Matrix Online Slot: "Deja Vu Shuffle"
A full Stack of Black Cat Wilds landing in Reel 5 via a base game spin, sets off the "Deja Vu Shuffle," The feature replicates the Stack of Black Cat Wilds in Reel 1. Any wins corollary to the event will then be evaluated. After which, all symbols currently on display including the Black Cat Wilds, reshuffle to random reel positions. New winning combinations are likely to form, garnering massive wins on the spin that triggered the "Deja Vu Reshuffle" feature.
The Matrix Online Slot: Free Games
The Red and Blue Pills, symbolic of Morpheus and Neo's first meeting, come around as Free Games icon. Simultaneously landing three (3) Free Games Symbols in Reels 1, 3 and/or 5 initialize the presentation of the following gaming choices:
The Red Pill: Free Spins constitute eight (8) free games played on a different set of reels. In this bonus round, every free spin loads the reels with large quantities of the high-paying Agent Smith icon. The enhancements aim to heighten players' chances of reaping huge wins by way of multiple Agent Smith winning combinations.
This bonus round though, cannot be retriggered.
The Blue Pill: Nebuchadnezzar Unlimited Free Round – Remember the squid-like killing machine called Sentinel? In this Bonus Round, a Sentinel Wild Symbol that appears after a spin, locks in place. As Sentinel Wilds continue to stick to their positions, winning combinations are likely to transpire in light of the extensive availability of substitute icons.
However, the Nebuchadnezzar Bonus Reels may return with an Electromagnetic Pulse image that is capable of removing the Sentinel Wilds. In such an event, the reels are first appraised for wins. After which, the succeeding free spins start anew in amassing Sticky Sentinel Wilds.
This bonus feature though allows a display of only up to six (6) Sentinel Wilds. Once that Sticky Wild Limit has been reached, and after the related wins have been awarded, the bonus round ends.
The Matrix : Cool Full-Reel Matrix Movie Icons, "Deja Vu Shuffle" and Free Games Features
The Matrix online slot brings to the online casino scene, Matrix movie figures and elements by way of full reel images that represent Stacked Symbols. A base game Deja Vu Shuffle feature, replicates a Stack of Black Cat Wilds in another reel, whilst causing outcomes to change in order to create additional winning combinations. Players can choose between two Bonus Games enriched with either an overload of the high-paying Agent Smith image or Sticky Sentinel Wilds.