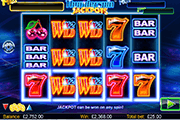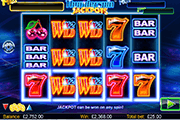 Thunderspin Jackpots Online Slot: Trigger Lightning Spins and Thunderwheel for Big Wins!
Thunderspin Jackpots online slot is an OpenBet Progressive Jackpot content that comes with Lightning Spins and Thunderwheel Features. On any paid spin, any of 3 progressive pools of prize monies could be won. Still, chances of hitting a major prize cannot be boosted. After all, jackpot Symbols may be triggered arbitrarily by any player, at any online casinos supported by NextGen Gaming. The Lightning Spins and the Thunderwheel features therefore will give players opportunities for raking in Big Wins while vying for the pooled prizes.
Another reward-boosting feature is the Wild Symbol. Payline wins, completed or extended by way of Wild substitution, earn twice the payout value prescribed by the Paytable. Rewards may even increase 4x or 6x, as the 2x factor of every Wild adds up. During Lightning Spins, the chances of striking Wild-completed wins are great. The bonus spins will play on a special grid in which Wild Symbols may emerge as stacked elements.


Thunderspin Jackpots Online Slot: Wild Symbols
Wild emblems take positions only in Reels 2, 3, and/or 4. A Wild icon that forms part of a payline win, doubles the corresponding reward. The more Wilds taking part in completing or expanding a win, the greater the increment. Every 2x Multiplier counts as additional factor. That means 2 or 3 Wilds completing a win can correspondingly increase the payout by 4x or 6x.
Moreover, 3, 4, or 5 Wilds that land simultaneously in the three (3) pre-designated reels, garner 20, 40, or 80 credits, respectively. Collecting Wild Pays are inevitable during Lightning Spins, as the emblems may partially or fully emerge as Stacked Wilds in the center reels.
Thunderspin Jackpots Online Slot: Lightning Spins Feature
This is a random base game bonus feature, as it may happen on any paid spin. Once awarded arbitrarily, three (3) bet-free spins will run on a special grid. During the brief bonus bout, an extra Lightning Spin may be awarded, also at random.
Here, Wild Symbols will rise to the occasion. They may appear in multiples in one or more reels; either partially or entirely visible as Stacked Wilds with a 2x Multiplier attached to each unit.
Thunderspin Jackpots Online Slot: Thunderwheel Feature
The Thunderwheel comes into play when a scattering of at least three (3) Bonus Symbols occur as spin outcomes.
The huge bonus wheel has two wheel segments rotating independently via a single spin. The inner wheel contains Multiplier Prizes with values ranging from 2x up to 250x. The outer wheel, on the other hand, contains five (5) Respin wedges.
After a Thunderwheel spin, the Prize indicator determines which of the Total Bet Multipliers will be awarded as Thunderwheel reward. If at the same time, a Respin Wedge aligns with the Prize indicator, then the bonus wheel spins anew.
This bonus feature though is not accessible during Lightning Spins.