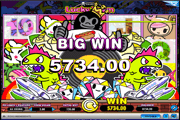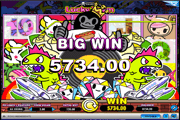 Tokidoki Lucky Town Slot: Reel Reveal Feature Brings Extra Wilds, Win-Multipliers, Expanding Wilds, Instant Wins, and Wild Symbol-Upgrades!
Tokidoki Lucky Town is an IGT online slot featuring reel icons designed by no less than the creator of Tokidoki anime art himself, Simone Legno. The popularity of the Italian artist's iconic artwork spawned a Tokidoki cult that prompted leading garment companies to collaborate with Legno, in producing unique Tokidoki clothing lines.
Chibi images, (anime cartoon figure with a big, round head), appear as symbols to match in a 5-reel, 40-payline slot configuration. Impressive illustrations of fashionably dressed Japanese women complete the Legno brand. Their images appear in Reel 5 to initiate the activation of the Reel Reveal Feature.



In this Tokidoki Lucky Town online slot, IGT's Reel Reveal feature unravels Wilds with win and pay-boosting features, Win-Multipliers, Instant Cash Wins, and Upgrades of Regular Symbols into Wilds!
Tokidoki Lucky Town Wild Symbol
There are two kinds of Wild Symbols to anticipate as suitable alternative icon to complete a payline win. One is the Regular Wild, represented by a White Heart and Crossbones image set against black background. The other is a Wild with a 2x Win-Multiplier, represented by a Black Heart and Crossbones image set against yellow background.
White Heart and Crossbones Wilds appear only in Reels 1, 2, 4 and 5. The Black Heart and Crossbones 2x Wild, on the other hand, appears only in Reel 3. The Tokidoki Lucky Town Paytable though, indicates payouts of 20, 150, 500 coin credits on every 3, 4, or 5 Wild payline combinations. Presumably, a winning 4- or 5-symbol Wild combination comprises both types of Wilds or a Special Wild.
Stacked Wild Symbols Tokidoki Lucky Town slot players can look forward to landing on a stack of Wild Symbols in Reel 4. However, the Stacked Wild Symbols emerge only during base game play.
Tokidoki Lucky Town Reel Reveal Feature
An Arrow Symbol triggers the Reel Reveal Feature. It comes into view only in Reel 5. Once it emerges, all reels will move one position toward the left. The shift completely moves out the base game Reel 1 out of the slot screen. A new 5th Reel with an image of a pretty Japanese lady will be revealed and added, completing the 5-reel slot configuration.
One of five Reel Reveal win- or pay-boosters will enhance the slot screen based on the character revealed by the new Reel 5. Once the special features appear, the reels will launch a free spin. If during the free spin, another Arrow Symbol emerges in Reel 5, the Reel Reveal feature recurs. All reels will once again shift to the left, eliminate Reel 1, add a new Reel 5, incorporate the revealed enhancement, and launch a free-spin. The Reel Reveal feature may be triggered up to five times in a row.
The enhancements unraveled and added by the Reel Reveal feature may be any of the following:
Caramella's Extra Wilds – The Chibi with the candy motif emerges in Revealed Reel 1, to add up to three additional Regular Wild Symbols.
Truffle's Random Win-Multiplier The Tuber Chibi comes out of Revealed Reel 2 to award a random win-multiplier ranging from 2x to 15x. All payouts earned from the Reel Reveal free-spin will be paid in fold, based on Truffle's revealed multiplier.
Pogo Becomes an Expanding Wild – Pogo, the Blue-Maned Unicorn Chibi becomes a Wild Symbol in Reel 3. The Pogo Wild expands by changing into Wild Symbols, two adjacent icons positioned in Reels 1 and 2.
Moofia Milk Carton's Cash Prizes Two up to 3 Moofia Milk Cartons emerge in Reel 4. Tokidoki Lucky Town players activating this feature will win one of 3 guaranteed cash prizes hidden behind the Moofia Milk Cartons.
Regular Symbol Wild Transformation – Any one of the lesser-paying Tokodoki Lucky Town characters will be presented in Reel 5 as temporary Wild Symbol. All images of the designated Wild icon in Reels 1 to 4, will become Wild Symbols  for the Reel Reveal spin outcome.