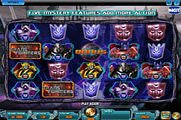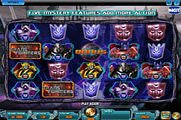 Transformers Battle for Cybertron Slot Game
IGT has yet chosen another amazing theme to build a game around, this time, it has chosen Transformers, the popular animated show that was recently adapted into a number of movies. This is why players can expect to see all of their favorite transformers including Optimus Prime, Bumblebee and Megatron spinning on the reels and lines of the video slot game, as they battle for their homeland, Cybertron.
[/CBC]

The game is offered to players in 5 reels and 40 lines. The symbols include Optimus Prime, Bumble Bee, the Decepticons symbol, the logo of the game among other characters from the world of the Transformers. The reels themselves are found on the home planet of the Transformers, Cybertron as players can see the war destroyed planet in the background of the reels. So get ready for a one of a kind action packed gaming experience that is all about the Transformers.
The game has a wild icon, which is represented by Wild Pink symbol. This symbol can substitute for other normal symbols whenever it lands on the reels of the game. This can help players increase their chances of winning drastically. The only symbol that it can't replace is the Bonus symbol, which is a common trait between all wild icons at different games.
Speaking of which, the bonus symbol is responsible for triggering the free spins bonus. When that happens, players will get to choose one of four transformer characters. Each character offers a different number of spins and a different multiplier. For example, Megatron offers 5 free spins with a 8x-10x multiplier while Optimus Prime offers 8 free spins with a 4x-10x multiplier, as for Bumblebee, it offers 15 free spins with a 2x-4x multiplier.
So if you are a fan of the Transformers comics or movies, then you will certainly get to enjoy this game,Transformers: Battle for Cybertron. The game is powered by International Game Technology, which vouches for everything about the game. this includes the visuals the sound effects, the rewards and of course, the overall gaming experience.
If all of this intrigues you and has encouraged you to try out the game, we have it right here for fun, so you can take the game for a test drive and see what it has to offer before you start placing any real bets on the casino game at the online casinos that offer it for real cash.