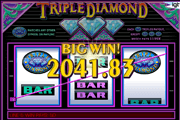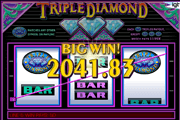 Triple Diamond : A Triple-Reel Classic Slot by IGT
Triple Diamond is a classic 3-reel real-money slot by IGT. Actually, this slot is similar in many ways to another IGT original classic slot, the Double Diamond Dual Play. It has the same graphic illustration, color palette, and soundtrack but with some modifications in the logo image in order to match the Triple Diamond slot title. This IGT slot though offers nine (9) paylines that increase the chances of landing matched payline wins.
The betting options for are higher, if compared to the Double Diamond classic. Whereas the latter has, a minimum line bet value of 10.00 using a preferred currency, the Triple Diamond minimum line bet value is at 25.00. Playing for all nine (9) paylines at a minimum total bet per spin then, would cost a slot player 225.00 (9 x 25); an amount that a casual recreational gambler could regard as intensive.

There are only the Red 7, the Triple BAR, the Double BAR, the solo BAR and the ANY BAR symbols in play. The Red 7 has the highest line bet multiplier of 100x for an exact three-of-a-kind match. The ANY BAR pays 5x the line bet for a payline win completed with any of the BAR symbol combinations. Unlike the Double Diamond 3-reel classic, the Triple Diamond slot has no special win rewards for its regular reel icons.
Still, the payout values promised by the Triple Diamond Logo Wild Symbol could help players optimize their slot playing. The Logo Wild awards special payouts when used as substitute for any regular icon, in completing a 3-of-a-kind payline combo.
The Triple Diamond Logo Wild Symbol Features
A Triple Diamond Logo (TDL) performs Wild substitution actions and could bring extraordinary payout multipliers whenever any active payline win is achieved.
A payline win completed with one (1) TDL pays triple or 3x the regular win based on the line bet value. Two (2) TDLs appearing as part of a payline win pay even higher; at nine times (9x) the line bet value. Three (3) Triple Diamond Logos in an active payline promises to be a jackpot, as it pays one thousand one hundred ninety-nine or 1199x the value of the bet placed on the payline.
The Triple Diamond Logo also awards Scatter Pays or extra rewards for any number of TDLs appearing in any reel position and regardless if the TDL helped form a payline win. One (1) TDL Scatter Pay is equivalent to a bonus reward of twice or 2x the bet staked per payline, while a two (2) TDL Scatter Pay is equivalent to 10x the bet staked per line.