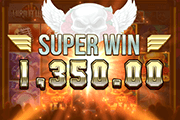 Turn It Up Online Slot: Non-Winning Spins Hype Up Reels with Exciting Reel Enhancing Features
Turn It Up online slot by Push Gaming pumps up the reels with three (3) Reel Enhancing Features. Non-winning spins become a boon if they occur in succession. Mainly because a series of non-winning turns work toward either a Wild Symbol Conversion, a Symbol Removal, or Multiplier Progression.
On top of those Reel Enhancements, a Win Spin Bonus may occur during base plays. This special spin awards and applies a randomly selected Reel Enhancement.
The best outcomes are yet to come during free rounds. Here, every non-winning spin automatically generates and applies a Reel Enhancer. Even more amazing is the "One More Spin" bonus at the end of the bonus round.
Turn It Up Online Slot: Wild Symbol
The featured Rock Band's Skull Logo represents the Wild Symbol. If the Skull Wild emerges as highlighted symbol in any of the boxes at the top of grid, then the next spin will surely be enhanced with a Wild Symbol.
The best outcomes are those that display multiple Wilds aligned in any of 10 paylines. A set of 3, 4 or 5 Wilds, occurring as winning contents of a paying line, awards 2x, 10x or 25x the Total Bet.
Turn It Up Online Slot: Reel Enhancers
A series of non-winning spins may work toward the collection of Reel Enhancers. Collection progression can be viewed via the conversion boxes located at the top of the grid.
Reel Enhancer Conversion Boxes
This section consists two layers of boxes: the Multiplier Enhancers in the the Upper Level, and the Wild Enhancer/Symbol Removal Enhancers in the Lower Level.
Multiplier Enhancer Feature starts by highlighting a 2x Multiplier. If this factor lights up after a series of non-winning spins, a x2 Multiplier will apply to any winnings garnered by the next spin. If a non-winning streak continues to transpire, the Multiplier progression shifts to the x3 factor, and so forth; until the currently highlighted Multiplier applies to a winning spin.
Wild Enhancer Feature – This feature transpires via the Lower Conversion Boxes if a randomly selected Symbol emerges with a Wild label. Likewise, a chain of non winning spins will complete the conversion of the highlighted symbol into a Skull Wild. Once the Wild Enhancer progression is complete, and if the next spin outcome includes a display of that particular icon, then the lot will all turn into Skull Wilds.
Symbol Removal Enhancer – A randomly selected icon, appearing in the Lower Level Conversion Box, works toward the completion of this feature. Once highlighted by a succession of non-winning spins, the symbol disappears; indicating its removed from the grid and will not emerge in the next spin.
Turn It Up Online Slot: Win Spin Bonus
This is a randomly awarded base game feature that occurs after a winning spin. The special turn instantly awards Multiple Reel Enhancers.
Turn It Up Online Slot: Free-Spins Round
A Hand Sign Symbol represents the Bonus Round trigger-symbol. A scattering of three or more in any spot across the grid, awards five (5) free-spins.
During the round and after every non-winning spin, Reel Enhancers simply take effect on the next spin right after a non-winning turn.
The next best feature about this Turn It Up Free Round is the "One More Win" spin awarded at the end of the bonus bout.
One More Win Spin initially starts as a single spin, but has potential to develop as a series of additional free-spins. Reel Enhancers will be awarded instantaneously. If the first spin results to a win, the feature concludes with that one extra spin. If not, extra spins continue until a win is achieved.
Turn It Up : Extraordinary Reel Enhancers that Improve Base and Bonus Spin Outcomes
Turn It Up online slot delivers extraordinary play via Reel Enhancers that players may collect via a series of non-winning spins; or obtain as features of Free-Spins. The Free Round is even more awesome as it awards a One More Win spin that could run on as a series of extra spins, as only a winning spin will conclude the feature.