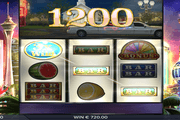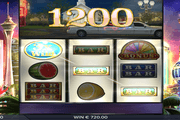 Vegas Diamonds Online Slot: Perfect Match Respins and 3-Level Bonus Wheel Bring Big Bonus Wins!
Vegas Diamonds by Elk Studios is a Las Vegas-themed, 3-reel online slot filled with amazing features and high-impact special elements.
First off, Wild Symbols come with Multipliers of 2x up to 5x. Next in the list is the high-win Vegas Diamonds Logo. It has a Nudge attribute, which if necessary, moves 3 Logo Icons in view, in order to align them in payline positions. Then there are the Bonus Symbols that can unlock the 3-level Bonus Wheel, which awards Free-Spins and/or Total Bet Multipliers.
The Free-Spins Bonus Round is not the only free event to look forward to, since the base game has a "Perfect Match" feature. The latter sets-off 3 consecutive Respins, should Reels 1 and 2 display the same sets of icons in the same positions. Awesome even is that the Multiplier Wilds, the Vegas Diamonds Nudge, and the Bonus Wheel may transpire during "Perfect Match Respins."


Vegas Diamonds Nudge Feature
Three (3) Vegas Diamonds Logo converging as winning combo in any of five (5) paylines, earn player 3000 win credits. In light of its status as highest paying icon, hitting a winning arrangement via this element, presents some challenge. Nonetheless, Elk Studios configured the Logo icon with a Nudge attribute that can help fulfill a Vegas Diamonds payline win.
Identical images must align in any of 3 horizontal and/or 2 diagonal lines in order to compose a payline win. A scattering of three (3) alike symbols therefore does not qualify as a winning outcome. Yet in this game, a scattered emergence of 3 Vegas Diamonds Logo, can still complete a payline arrangement. The icon's Nudge attribute will see to it that the 3 Logo Symbols will fall in the right places by moving the reels.
Vegas Diamonds Online Slot: Perfect Match Respins
Perfect Match Respins trigger if after a paid spin, Reels 1 and 2 return with identical displays. The pair of alike reels lock in place, while Reel 3 Respins in order to bring fresh elements that can connect with those already in place. Regardless of outcomes, Reel 3 spins 3 times in a row. Respin winnings if any, accumulate as additional rewards of the paid spin that set-off the Perfect Match Feature.
If during one of Perfect Match Respins, Bonus Symbols land as perfect 3-reel matches, the respin feature temporarily ceases. That way, the game can carry on with the Bonus Wheel spin that unlocks a free round or Total Bet Multipliers. Remaining Respins resume after completing the bonus round.
Vegas Diamonds Online Slot Bonus Game
A trio of Bonus Wheel Symbols scattered across reels unlocks the Fortune Wheel. Qualifying players will have three (3) wheel-spins to play to determine their Bonus Fortune. A wheel-spin may land on the Free-Spins prize wedge that sets off five (5) free games with an all-win 5x Multiplier; or land on Total Bet Multiplier Values used as bases for instant cash bonuses.
Fortune Wheel Features
The Bonus Wheel has 3 levels of Fortune Prizes: Bronze, Silver and Golden. Advancing to the next level automatically unlocks an additional wheel-spin. Each level upgrades the Total Bet Multipliers or Free-Spins that can be collected as bonus reward.
If on the first set of wheel-spins, the prize marker lands on an Arrow-up icon, the next turn plays on the Silver Fortune Wheel. The upgrade continues via the Golden Wheel, if another Arrow-up wedge is hit.
Once all Fortune Wheel spins and Free-Spins (if any) have been played, all cash bonuses collected will be credited.