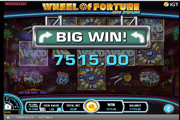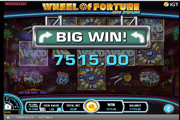 Wheel of Fortune on Tour Online Slot: A Reel-Spinning Journey to Bonus Wins and Bonus Features!
Wheel of Fortune on Tour online slot is the latest of IGT's popular Wheel of Fortune (WOF) series. This time, the reel-spinning experience involves an exciting virtual trip onboard the WOF Wheel Mobile.
During base game play, one (1) Bonus Symbol in view furnishes players with fuel to fill up a virtual Fuel Tank. Once the "On Tour Bonus Game" is activated, each filled tank will enable players to move from one map location to another. At every stop, players will have a chance to earn Bonus Rewards, either by way of the Wheel of Fortune or via a Special Bonus Feature.
The game also has a random Wild-boosting feature that greatly increases players' chances of hitting big payline wins.


Wheel of Fortune on Tour Wild Symbol
The WOF Game Logo poses as the Wild Symbol. It is also the highest paying icon of the game. A combination of three, four, or five Wilds in a payline awards 150, 500, 2500 coin credits, respectively.
The Wheel of Fortune – "Wheel Mobile Wilds"
This feature occurs arbitrarily after a spin, and only if the outcome does not include an "On Tour Bonus" Symbol.
Occasionally, the WOF Wheel Mobile makes a stop in front of the slot screen. The bus then, turns one (1) up to four (4) randomly chosen symbols into WOF Wilds. There is also a chance that after a Wheel Mobile wheels out, it will return to add more WOF Wilds to the current spin outcome.
The results of which could be astonishing, as the reels will be full of WOF Wild Symbols.
Wheel of Fortune On Tour – Bonus Symbol
The huge Yellow WOF Wheel Mobile image represents the "On Tour Bonus" symbol.
• A single Bonus Symbol emerging after a spin fills up 1/10 of a Fuel Tank. Wheel of Fortune on Tour players can keep track of their Fuel Tank progress via the virtual gauge located on the left side of the screen.
• If three (3) "On Tour Bonus" Symbols come into view after a spin, the "On Tour Bonus" Game will be activated. Moreover, a Fuel Tank will be awarded as addition to the filled tanks already amassed by a Wheel of Fortune on Tour player.
Wheel of Fortune "On Tour Bonus Game"
The Fuel Tanks collected determine the number of spots by which players advance in the 24 locations indicated in the "On Tour Bonus" map. If a player stops on a Wheel of Fortune spot, he or she gets to spin the bonus wheel to receive a cash prize.
The virtual tour starts with Level 1, to progress up to Level 6. As players advance across the map, a Special Bonus Feature will be unlocked. The feature becomes playable once a player reaches the spot.
After all Fuel Tanks collected have been consumed, the "On Tour Bonus Game" ends. However, in a continuing slot session in which a player gets a chance to re-enter the bonus game, the WOF Wheel Mobile will start from where it last left off. That being the case, every "On Tour Bonus" Game play works toward elevating to the next Game Level, and in unlocking the following features.
Level 1 – Free-Play Free-Spin
Level 2 – Expanded Top Award: The odds of landing on the top prize is greater as the related WOF wedge will be bigger.
Level 3 – Letter Board Picker: A Pick and Click Game of choosing three letters comprising the WHEEL of FORTUNE signage. An On Tour Level 3 player will receive either a coin prize; a value multiplier; or a value multiplier + 1 Extra Pick.
Level 4 – Multiplier Slice: The WOF Bonus Wheel will be configured with a Multiplier Prize + 1 Spin
Level 5 – Spin to Win: The WOF Bonus Wheel will be configured with a Spin to Win wedge
Level 6 – Bonus Trigger Boost : The base game will be configured to randomly allow the activation of the "On Tour Bonus," Game with only a single Bonus Game in view.