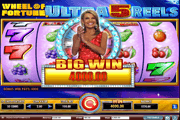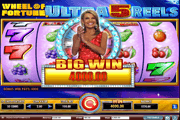 Wheel of Fortune Ultra 5 Reels – Two IGT Bonus Wheels and More!
Wheel of Fortune Ultra 5 Reels is the online version of another IGT reels and wheels, land-based slot machine content. The classic Lucky Number 7 and an assortment of fruit icons land as matched-symbol combos in any of the 30 fixed payline configurations. Multiplying WILD Symbols randomly appear as Wilds with multiplier factors applicable to Wild-completed wins.
As Wheel of Fortune Ultra 5 Reels players spin and win by landing on three, four- or five-of-a-kind icons, their spins could also land on outcomes that trigger the Scatter Wheel Bonus and Ultra Wheel Bonus Features.


Wheel of Fortune Ultra 5 Reels Multiplying Wilds Feature
A symbol plainly labeled as WILD poses as the regular joker card of the game. It comes around as full reel Stacked Wilds or some parts of it may partially come into view in any reel. Wilds appearing after the occurrence of a spin that produced a Multiplying Wild Symbol have the potential to become Multiplying Wilds themselves. A Wild icon that helped complete a payline win could likely reveal a multiplier factor.
The Wheel of Fortune Logo on the other hand is the Multiplying Wild (MW), as the signage comes with a multiplier factor. MWs though emerge only in Reels 2 and 4.
A Multiplying Wild appearing for the first time, always comes with a 5x Multiplier; paying fivefold on any payline win it helped complete. If the next spin also produced Multiplying Wild Symbols, the potential multiplier factor of those MWs can be anywhere between 2x and 5x.
If more than one MW icon helped complete a payline win, the multiplier number of each WILD will also be applied in fold. Let us say the payline win was completed by two 5x MW icons, then the win amount will be evaluated with a 25x (5x . 5x) multiplier.
Wheel of Fortune Ultra 5 Reels – Scatter Wheels Bonus Feature
A Scatter Wheels Bonus icon randomly appears after a spin. A trio of those symbols simultaneously emerging as outcomes triggers the Scatter Wheels Bonus.
Bonus Wheels, all containing instant coin wins, will replace the icons in each of the three (3) reels where the Scatter Symbols emerged. The three (3) Bonus Wheels automatically spin and all resulting coin-wins will be aggregated. The coin value staked on the spin that triggered the Bonus Wheel Feature will then multiply the total coin wins.
Wheel of Fortune Ultra 5 Reels – Ultra Wheels Bonus Feature
A tile labeled as Ultra Wheel serves as the trigger symbol of this bonus game. Three (3) Wheel of Fortune Ultra Wheels symbols positioned in any reel and appearing altogether after a single spin will activate the three (3) Bonus Reels. Each Reel, numbered as 1, 2, and 3 accordingly, will determine the Ultra Wheel/s activated for the featured bonus play.
If after spinning the Reels, all three returns with their numbers lit up, it denotes that all Ultra Wheels will be activated. In the event that a reel returns with a blank reel surface, it means that the corresponding Ultra Wheel will not be included in the featured game. On the other hand, a reel returning with Wheel + Multiplier means a multiplier factor may be won. The potential coin wins offered by the Wheel of Fortune Ultra Wheels are as follows:
• Ultra Wheel 1 = Bonus wins range from 300x up to 10,000x the coin bet
• Ultra Wheel 2 = Bonus wins range from 150x up to 2500x the coin bet
• Ultra Wheel 3 = Bonus wins range from 100x up to 500x the coin bet