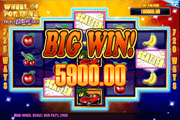 Wheel of Fortune Online Slot Featuring Mini and Triple Extreme Bonus Wheel Games
Wheel of Fortune is a 5-reel online slot offering 720 ways to win from three or more consecutively appearing matched symbols regardless of pattern. This IGT online slot pays for win combinations coming from both ways, whether from the leftmost reel or from the rightmost, making it possible for players to win the 100,000-coin top prize. In addition, the game has two Wheel of Fortune instant win games that award guaranteed bonus prizes.
The reel icons in play are a combination of classic fruit images and of objects usually awarded as top prizes in the Wheel of Fortune TV game show; a Yacht, a piece of Jewelry, and a Sportscar award as many as 1,000, 400, or 300 coins as top rewards. Yet the highest-paying symbol is the Wheel of Fortune logo, awarding 2000, 5000, 10000 coins for every 3, 4 or 5 matching symbols.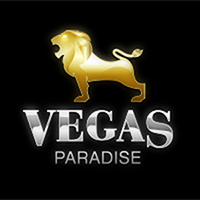 Overall Rating
PLAY NOW
Vegas Paradise
Welcome Bonus of $€£ 200 for all New Casino Players
T&C Apply 18+
Hottest Casino in the United Kingdom
Huge collection of online slots and table Games
Extremely High Payout Percentage
Monthly Promotions and Free Play
The possibilities of winning from one-of-a-kind consecutively appearing symbols, whether originating from the first or the last reel is enhanced by a WILD Symbol that can be used as regular symbol substitute. The WILD Symbol though emerges only in Reels 2, 3, and/or 4.
Yet the icons to watch out for are the Mini-Wheel Bonus Scatter and the Triple Extreme Bonus Wheel Symbols.
The Wheel of Fortune Online Slot Mini-Wheel Scatter Symbol
This segment is triggered by the simultaneous appearance of three single-wheel images representing the Scatter Symbol. Each Bonus Wheel spins to award Scatter Pays with values ranging from 50x to 3,850x the value of the coin denomination used as bet per spin. The total Bonus Wheel Scatter Pays will then be added to any matched-symbol wins
The Wheel of Fortune Online Slot Triple Extreme Bonus Wheel Game
A trio of a tri-wheel images may appear in any reel and in any row, to trigger the Bonus Wheels of the Triple Extreme Bonus Wheel Game. Here, three Bonus Wheels with color-coded pointers are in play, to which the pointer color determines the prize range and/or the multiplier factor.
• The Bonus Wheel with a Red Pointer awards 100 up to 5,000 coins.
• The Bonus Wheel with a Blue Pointer awards 30 up to 1,000 coins.
• The Bonus Wheel with a Yellow Pointer awards the Multiplier Factors of 2x, 3x, 4x, 5x, 7x or 10x by which the Bonus Coin wins will be multiplied.
An introductory Pick Me segment presents players with twelve (12) envelopes. The number of Pick Me selections depends on the number of triggering Triple Extreme Bonus Wheel Symbols. Each selection reveals a Pointer Color to determine the Bonus Wheel/s that will be in play during the Bonus Game.
The coin value on which the Red or Blue Bonus Wheel pointer stops after a spin represents the prize/s won, to be multiplied by a factor if the Bonus Wheel with Yellow Pointer is in play. Otherwise, the default multiplier factor is 1x.
To illustrate, let us say a bonus player selected three (3) envelopes, revealing a Blue Pointer, a Red Pointer and a Yellow Pointer. The sum of the coin values on which the Blue Pointer and the Red Pointer landed will be multiplied by the multiplier factor on which the Yellow pointer landed.
On the other hand, if as an example, all three (3) envelopes revealed two (2) Blue Pointers and one (1) Red Pointer, the sum of all coin values won will be multiplied by a 1x factor.
The Wheel of Fortune Bonus Wheel Game awards fixed prize values of up to 250x the coin value, if a player triggers more than three (3) Bonus Wheel Prize Pointers.
Awesome IGT MultiWay Pay-Both-Ways Slot with Wheel Bonus Games!
IGT's Wheel of Fortune online slot featuring the multi-way with pay-both-ways game attribute in combination with two exciting Bonus Wheel Games offers an awesome real money playing experience!