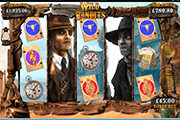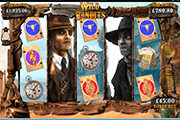 Wild Bandits Online Slot: Wilds-Packed, Wild West-Themed, Reel-Spinning Adventure
Wild Bandits is a 15-payline online slot that furnishes players with an assortment of Wild features. Created by OpenBet for the NYX/NextGen Gaming network, this Wild West-themed slot takes on different bandits as main attractions. Get to know the head honcho, Cidro Montez and his band of outlaws: Clint Flintlock, Butch Logan, Rose McKinty, Billy Douton and Lady Grey McKinty. During a bonus round, those bandits appear as Sticky Wilds in varying sizes: full-reel, in 3×2 cells, or even as a colossal 3×3 image. Capturing any of those Wild Bandits during a free round, earns players additional rewards as Bounty Hunter. Players though will be offered a bribe to release the Sticky Bandit Wild, and forego whatever Bounty is in store.
Actually, Wild substitution actions abound even during base game plays, as there are two (2) random features that modify spin-outcomes with Wild Symbols. There is the Wild Shootout Feature, an action packed event that leaves the slot screen riddled with Wild Symbols. Another is the Wilds West feature, where mayhem transpires but Wildly benefitting slot players. The latter brings on Wild Reels via three free turns.


Wild Bandits Online Slot: Wild Symbols
Substitution actions can come thru different Wild forms. One is the Horseshoe Wild, which is the Regular Wild Symbol. It appears in any base or bonus game reel. However, it does not appear during an ongoing "Wild Shootout" event.
In its stead, a Bullet-hole on Wall Wild will emerge in more than one reel after a "Wild Shootout" transpires.
Not like in the "Wilds West" chaos, where the Horseshoe Wild Symbols remain active. It will work in conjunction with Wilds West's exclusive Dynamite Wild Reel.
In the "Wild Deals Free-Spins Round," the Horseshoe Wild Symbol also continues as an active substituting element. In addition, the larger-sized Wild Bandits may appear as Sticky Wilds; working with Horseshoe Wilds in completing multiple, or longer payline combinations.
Wild Bandits Online Slot: Wild Shootout
The "Wild Shootout" is a random base and bonus game feature. This is actually a respin event, but not without giving slot players a chance riddle the slot screen with multiple Bullet-hole on Wall Wilds.
Wild Bandits Online Slot: Wilds West Feature
The Wild Bandits are in town, wreaking havoc by throwing dynamites in all reels. When a Dynamite icon lands on Reel 3, 4, or 5, the Wilds West sets off, launching three (3) consecutive respins.
In the first free turn, a Dynamite Wild Reel will hit Reel 3. The next respin strikes a Dynamite on Reel 2, replacing all symbols in that column with a Dynamite Wild Reel. The third respin will again carry on with the Dynamite throwing action, this time placing the Dynamite Wild Reel in Reel 1. After which, all wins gained from the Wilds West respins, will be awarded.
Wild Bandits Online Slot: Free Games
The mean-looking Cidro Montes appears as the Bonus Game trigger-symbol. When the Bonus image of this bandit emerges simultaneously in Reels 1, 3 and 5, the Wild Deals Bonus Game activates. Qualifying slot players will act as Bounty Hunter during a round of 15 free-spins.
All forms of Wild Bandits may appear as outcome of any bonus spin. The larger the size of the Wild Bandit, the greater the Bounty awarded for capturing them as Sticky Wilds. A Wild Deals player who gets to capture more than one Sticky Bandit Wild during the free bout, stands to receive a higher Bounty. Both Bribe and Bounty will be based on the number and the size of the Sticky Wild Bandits captured during the bonus game.
Sticky Bandit Wild Deals– Every Sticky Wild Bandit that lands after a bonus spin is accounted as a Captured Bandit. Each Wild Bandit though offers a bribe that a player may choose to accept or reject. Accepting means the Sticky Bandit Wild will be released, while rejecting the bribe will keep the Sticky Bandit Wild/s locked in its/their current position/s.
At the end of the free round, the corresponding Bounty in addition to regular bonus winnings, will be awarded.