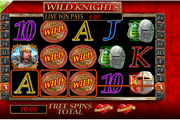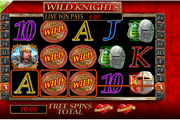 Wild Knights Online Slot -Experience the Thrills of Unlimited Free-Spins and Random Special Wild Features!
Wild Knights online slot is a Barcrest slot machine original. It offers higher pays and better chances of landing bonus wins to those playing for higher stakes. The Knight Times Spin Wheel feature for one is available if the spins launched with a 2.00 or higher wager. The spin wheel awards either a win multiplier or direct entry to the Unlimited Free-Spins Bonus Round.
Still, Wild Knights online slot promises fun and excitement all throughout even to those playing with less than 2.00 wager per spin. Random features such as the Jousting Reels and the Expanding Wilds bring guaranteed wins after a losing spin. The Unlimited Free-Spins Round is accessible to all types of players via three Bonus Symbols, although equivalent payouts differ by at least half. Risk takers willing to place higher bets via the High Roller Mode have greater chances of experiencing all special features in a single set of High Roller Games.

Wild Knights Wild Symbol and Expanding Wild Feature
The wild card of this game may appear in any reel via a Gold Shield icon labeled as Wild, Occasionally, and after a losing spin, the reel in which a Wild Symbol appeared may expand by filling up the reel with additional Wilds. The occurrence will result to a guaranteed payline win.
Wild Knights Online Slot – Jousting Reels Feature
Another special reel attribute guaranteed to bring forth at least one winning combination is the Jousting Reels Feature. Arbitrarily, and after a losing spin, any two reels move downward, one reel-position at a time, until at least three identical symbols form a payline win.
Wild Knights Bonus Game Symbol
Three Bonus Symbols, a Red Shied, a Blue Shield and a Red/Blue Shield may trigger the Unlimited Free-Spins Bonus Round. Those symbols appear exclusively in Reels 2, 3, and/or 4.
In a regular game played with any bet amount, a 3-symbol grouping of same color Shield icons or a combination of any Shield color, triggers unlimited free-spins.
Wild Knights Unlimited Free-Spins Game
Although touted as unlimited, each bonus round has three Life-duration. A Heart Symbol represents each Life. A Dragon totem that emerges only in Reel 5 though could snuff out a Heart Symbol. The Unlimited Free-Spins Bonus Game therefore comes to an end if all three Heart Symbols have been taken down by the Reel 5 Dragon icon.
The number of Heart Symbols or Life of an Unlimited Free-Spins Game depends on the type of Shield Bonus Game icon that activated the round:
• Three (3) Red Shields = 3 Heart Symbols
• Three (3) Blue Shields = 2 Heart Symbols
• Three (3) Shield Symbols comprising a combination of the Blue, Red, or Red/Blue Shield = 1 Heart Symbol.
Wild Knights High Roller Games
A High Roller Game is a set of five paid spins played consecutively with a single High Roller (HR) Bet. HR Bet amounts are in bet values of 20.00, 40.00, 100.00, 200.00, 300.00, and 400.00.
In every set of High Roller Games, each Shield icon work toward the activation of the Unlimited Free Games. Every Shield that appeared during an HR Game is displayed at the top of the reel board. Once three Shields have been collected during an ongoing HR Game, the Unlimited Free-Spins Round will launch.
The 5-spin HR Game will temporarily halt to give way to the free-spins play, but will resume as soon as the bonus round ends.
In addition to the Jousting Reels and Expanding Wild Features, HR Game players may also experience the random activation of the Knight Times Bonus wheel.
The Knight Times Bonus Wheel is an exclusive Bonus Feature for High Roller Games, randomly activated after a winning spin. The spin wheel may land on a value multiplier anywhere between x1 and x5, and the factor on which the arrow lands will be the multiplier for the most recent payline win.
The Bonus Wheel may also land on a Bonus Shield icon, to grant direct entry to the Free-Spins Round. The number of Heart Symbols awarded depend on the color of the Shield on which the arrow landed.