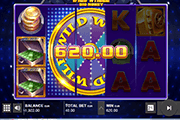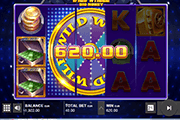 Wild Wheel Big Money : Colossal Wheel Icon Awards Big Money via Instant Wins or Free Spins!
Wild Wheel Big Money by Push Gaming presents an innovative extra large Wild Symbol in bringing colossal rewards. Every unit of Wild icon that comes into view nudges; guaranteeing the placement of a full stack of substitute symbols in a single reel. The great news is that the 20-payline grid is inclined to produce more than one Wild Reel on a single spin. After all, it takes three (3) Wild Reels to fully display the huge Wild Wheel icon that awards Big Money Bonuses.
The Wild Wheel is actually a gigantic image of a Bonus Wheel that takes position in Reels 2, 3 and 4. However, the wheel image is divided into three (3) parts; one in each of the three (3) designated reels. Every Wild Wheel part therefore is a Wild Reel; containing 3 units of substitute icons that can complete or expand a winning combination.

• One (1) Wild Reel is equivalent to having three (3) substitute icons.
• Two (2) Wild Reels brings six (6) substitute icons; although not necessarily in adjacent columns.
• Three (3) Wild Reels not only brings nine (9) substitute elements in contiguous reels. It also completes the extra large Wild Wheel image that unlocks the game's Big Money Bonus Game. The event will likely result to Big Wins. First off, the colossal 3×3 Wild Wheel at the center greatly increases chances of hitting multiple payline wins. Secondly, the activated Big Money Bonus Game is guaranteed to award bonuses via Total Bet Multipliers or by way of a Free-Spins Round.
Wild Nudge Feature – Even if only a segment of a Wild Reel comes into view, the Wild Reel's Nudge attribute will pull that element up or down to bring a full-reel display.
Wild Wheel Online Slot: Big Money Bonus Game
The Wild Wheel Big Money Bonus Game plays via three Bonus Wheels. Each represents a game level containing higher range of prizes. The prize wedges award either Instant Wins, Free-Spins or a Wheel Upgrade.
Take It or Leave It – After a spin of the Big Money Wheel, players have the option to claim the bonus prize on which the Wheel Marker landed; or gamble for a higher prize by taking another spin. Collecting the money offered ends the Big Money Wheel Game. If a Free-Spins Round has been won, proceeding with the bonus round nullifies any chances of spinning for bigger Big Money Wheel rewards.
Landing on a Wheel Upgrade is an exception to the Take it or Leave it gamble feature. Wild Wheel bonus players will automatically advance to the next Big Money Bonus Wheel. Once a spin comes up with a bonus prize, the Take It or Leave options will be presented; not unless the Bonus Wheel lands on another Wheel Upgrade that will unlock the ultimate Big Money Wheel.
Instant Wins are awarded via Total Bet Multipliers.
Free-Spins play in a grid with Locking Reels Feature. In each Free Round, three (3) contiguous reels containing the same set of symbols lock together. They will spin simultaneously with the non-conjoined reels. Through the Locked Reels feature, there is always a chance of landing the huge Wild Wheel.
Wheel Upgrades give players a chance to vie for highest cash bonuses or the most number free-spins awarded by the Big Money Bonus Game.