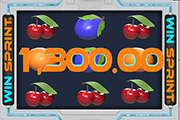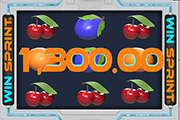 Win Sprint Online Slot: Awards 1 Spin and Increase of 1x Multiplier with Every W+I+N Outcome!
Win Sprint is an innovative 3-reel online slot inspired by Vegas-Style slot machine elements. Five (5) fruit icons appear lifelike thru Realistic Game's 3D graphic presentation. Three rows of images including the Lucky Number 7 and the Golden Bell, float, shake or spin inside a 3×5 framework. Landing on 3 matched images in any of 3 horizontal lines, and/or of 2 diagonal lines, garner notable cash rewards. The Number 7 awards the highest prizes; paying as much as 1250x the amount staked as Line Bet.
Pay attention to the W, I, and N elements appearing as outcomes of a spin. If those three (3) land in a W + I + N order, in any of the five (5) paylines, the event triggers the Win Sprint Feature.


Win Sprint Online Slot: Free-Spins
This 3D online slot awards a free-spin via the Win Sprint Feature. Every W + I + N combination occurring in a payline, awards a bet-free Win Spin that comes with a x1 Multiplier. If more than one payline display a W + I + N combination, the number of bonus spins increases accordingly. Moreover, the x1 Multiplier likewise increases by 1.
Supposing a spin produces multiple W + I + N combinations: two (2 ) in the 1st and 2nd horizontal lines, and a 3rd in one of the diagonal lines. Three (3) W + I + N Spins launch as bonus rewards. The right side of the slot screen will then display a 3x Multiplier; indicating that all winnings generated during the brief Win Sprint bout will be paid threefold.
Actually, the Win Sprint Feature awards guaranteed wins; either in the form of winning combinations involving any reel element, or one or more additional W + I + N spins.
The maximum bonuses that can be won from a round of Win Sprint Free-Spins, is 12500x the value of the triggering Bet.
Win Sprint Online Slot: Reel Elements
Other reel elements that can form a winning 3-symbol combination include Golden Bells, Strawberries, Grapes, Oranges, Plums and Cherries. The Golden Bell ranks as the second high-paying image next to the Number 7. Three Golden Bells occurring as payline win awards a cash prize equivalent to 50x the Line Bet.
The Strawberry icon comes next with its 25x Line Bet multiplier, while the Grapes awards 20x the Bet staked per payline. The Plum and the Orange icons award medium pays, equivalent to 15x and 10x the Line Bet, respectively. The Cherries symbol, being a traditional lowest-paying element in Vegas-style slot games, has a Paytable value pegged at 5x the Line Bet.
Win Sprint Online Slot: Betting Options
Every Bet staked per spin covers all five (5) paylines. The range of betting options starts with a minimum 0.25 per spin, and capped at a maximum of 200.00 per spin.
Cash rewards though are based on the amount staked as Line Bet. A minimum 0.25 Bet therefore constitutes a 0.05 Line Bet (0.25 Bet / 5 paylines). The 200.00 Max Bet, on the other hand, has an equivalent Line Bet of 40.00 (200.00 / 5 paylines).
Amounts staked as Line Bets though do not affect chances of hitting paylinee wins, or of triggering the Win Sprint Feature. Its greater significance is that a greater bet value tends to generate greater cash prizes, especially if a single spin generates multiple payline wins.