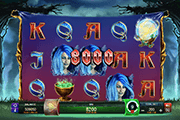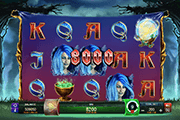 Witchcraft Online Slot: Respin Until You Win plus an Interactive Card-Matching Mini Game
Witchcraft online slot by Fuga Gaming has 40-payline configurations. Players though can play with only 20 or 30 active paylines. Yet activating all pay diagrams may prove to be the best option, since this game has two highly rewarding bonus features. One is a Respins event that may last until the featured Secret Symbol, Multi Wilds or Stacked Wilds take part in forming winning combinations. Another is an interactive Card-Matching Game with which players could win 10x up to 150x the Total Bet.
A special Pentagram Symbol may appear as random outcome of a regular spin. The symbol cannot form a winning combination but can improve the rewards of a concurring payline win. A Pentagram Symbol, positioned next to a winning symbol, may swap places with a neighboring image. The Pentagram though will do so, only if such action will increase the winnings of that particular spin.


The Crystal Ball is the highest paying Witchcraft icon. It awards a cash prize equivalent to 20x, 250x, 1000x, or 2500x the value staked per payline. However, the Crystal Ball icon is excluded as a potential Secret Symbol that may be awarded as part of the Respins Feature.
Witchcraft Online Slot: Respins Feature
Take notice of the Red-haired Fire Witch. Three, four, or five Fire Witch images simultaneously in view after a spin, trigger the Respins Feature. The bonus event also comes with a reel modifier that will be revealed prior to launch of the first respin. The Pentagram Symbol though is not available during respins.
All Fire Witch icons in sight will change form; either as a Secret Symbol, as Multi Wilds with Multiplier, or as Stacked Wilds. The respin will carry on until each Secret Symbol or Wild icon has taken part as component of a payline win. This denotes that all Secret or Wild Symbols, will lock in place during respins in anticipation of their contribution to a win-event.
Secret Symbols – are any of a single type of regular icon, replacing the Red Witch trigger-symbols. The Crystal Ball, however, is ineligible as a potential Red Witch replacement.
Multi Wilds with Multiplier – Each Fire Witch trigger-symbol transforms into a Wild with Win-Multiplier. Every Wild-Win Multiplier that remains active during respins increase in value by one (1).
In a win-event that includes two (2) Wilds with different Multipliers, the higher increment will apply. Wild Win-Multipliers can increase up to 7x if all pay patterns are in play; or up to 5x or 3x respectively, if only 30 or 20 paylines are active.
Stacked Wilds – The triggering Fire Witch images change form as Stacked Wilds. The reels may lock in place up to six (6) Wild Symbols, if all 40 paylines are active; or up to 4 or 2 Wilds if only 30, or 20 pay diagrams are in play.
Witchcraft Online Slot: Card-Matching Bonus Game
Here, the Blue-Haired Ice Witch acts as bonus game trigger-symbol. The Ice Witch images though must altogether appear after a spin, in Reels 2, 3, and 4.
The Card-Matching game entails clicking on any of nine (9) ice cubes to reveal matching parts of a Sword, a Maiden, a Mage, an Eye, or a Sun image. Each image awards a cash prize once their two-card components have been revealed. However, once a match has been made, this Witchcraft bonus game ends. The prize related to the winning symbols will then be awarded.
The highest paying Symbol is the Sun totem. Completing this image at the very first instance during the bonus game, awards a random cash prize anywhere between 70x and 150x the Total Bet. The Eye, the Mage, the Maiden and the Sword, correspondingly bestow cash rewards equivalent to 40x, 30x, 20x or 10x the Total Bet.