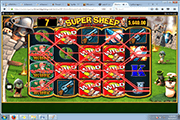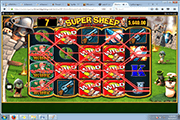 Worms Reloaded Online Slot : More Reel Power-Ups and Bonus Game Types than the Original "Worms" Slot!
Worms Reloaded online slot turns over another leaf to the Worm video slot released by Blueprint Gaming. This refurbished betting game has reel modifiers that power-up base and bonus game spins. Stacked Wild Symbols occurrences in this new version will be boosted by two (2) random Reel Modifiers. Moreover, an additional free-spins round has been added as potential Bonus Game reward.
Jackpot King Progressive Pot– Another great news is that this Worms Reloaded slot has been linked to Blueprint Gaming's network-wide, Jackpot King Promotional Pot System or simply, Progressive Bonus. Any bet placed to spin the reels can trigger the Jackpot Game that leads to the tombola-style Wheel King. The latter awards Multipliers in huge numbers, as well as segments of the Progressive Jackpot.


This reloaded Worms version though offers only 20 paylines, instead of 50. Yet, the Wild Symbol starts awarding coin credits on as few as two (2) Wild Icons occurring as stand-alone payline win. In addition, the Worms Reloaded Logo is a reel element that appears in whole, or in part as Stacked Symbols. Both Wilds, and Logo icons award 2, 40, 100, or 500 coin credits on a payline win composed of 2, 3, 4, or 5-of-a-kind symbols.
Worms Reloaded Online Slot: Random Reel Modifiers
Striking payline wins via any spin is inevitable; but reaping rewards in Big, Mega, or Armageddon proportions depends on luck. To push odds in favor of players, the following four (4) random reel modifiers may explode; creating significant changes on the outcome of any spin.
Banana Bomb Wilds An exploding Banana Grenade will fill the reels with Banana Wilds. If a Worm comes into view and fires a bazooka, the reels launch a respin, while holding all Banana Wilds in place.
Concrete Donkey A Worm character detonates an explosive, and causes all Concrete Donkeys to tumble and bring down Wild Reels.
Teleport Mayhem This random feature tends to stop the reels from turning during a spin. Existing symbols will then disappear, and subsequently reappear but in a winning order. If the occurrence results to a win, the feature continues. It a chain of wins goes on, the feature may end if the Worm decides to blow away itself.
The Holy Hand Grenade that comes into view will explode as means of bringing on additional Bonus Symbols in appropriate reels.
Worms Reloaded Online Slot: Bonus Games
The Bonus Symbol takes position only in Reels 1, 3, and 5. The 5th Reel Bonus icons though are different, as they represent the Bonus Game Title. The Bonus Game activates when two Bonus Symbols land on Reels 1 and 3, whilst combining with a Bonus Game Title in Reel 5. The Reel 5 Title determines the type of bonus game that activates, which may be any of the following:
Battleground Bonus – Mines scattered across a battlefield hold Mystery Prizes that players reveal in a Pick Bonus Game.
Jetpack Bonus is a 2-Level outer space-themed Trail Bonus Game. Worms Reloaded slot players click on UFOs in the first stage. If the Worm survives and makes it to the second stage, players choose Planets to blow up in order to reveal Big Win Multipliers.
Blitz Blast Free Spins is the bonus round that awards unlimited numbers of free-spins and progressive win-multipliers. The round ends only when the Missile to which a Worm is attached launches into space.
Super Sheep Free-Spins is a bonus round that initially awards six (6) Free-Spins. At the end of the round, Worms Reloaded players will then select one of three (3) Grenades. to determine if the bonus round resets anew or ends via the COLLECT prompt.