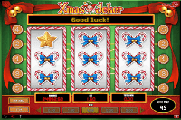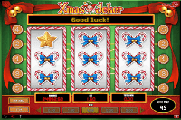 Xmas Joker : Yule-Themed Slot with Free Spins and Win Multiplier Treats
Xmas Joker is a Play'nGo classic-style, 3-reel video slot that brings a delightful holiday online gambling experience. Ideal for indoor entertainment especially during those freezing snow-laden days, Xmas Joker is available to play via desktop and mobile gaming platforms.
[/CBC]

As a video slot with a classic format, landing on three same-symbol Christmas trimmings along any of the slot's five fixed paylines, results to a win. Stars, bells, balls, bows, and a pair of gingerbread men adorn and fill each reel, all emerging as one-of-a-kind symbols stacked atop each other in each reel.
All that a player has to aim for is to land on an outcome in which three-of-a-kind icons are aligned as matched combinations. The alignment must occur in any of the three horizontal lines, or in any of two diagonal lines traversing from upper left corner down to the lower right corner and its opposite.
Xmas Joker Not a Wild but a Free-Spins Scatter Symbol
The Joker is not Wild here; but instead pose as the Scatter Symbol that can activate the Free Spins Bonus Game. Three Joker Symbols landing simultaneously on any spot across the reels will set in motion ten (10) bet-free spins as Bonus Game. During the round, and when three neatly wrapped Christmas Gift icons appear as part of a free-spin outcome, another set of ten bet-free spins will be added to the remaining bonus spins.
Xmas Joker Bonus Game players have the chance to receive as many as 50 consecutive free spins in a single Bonus Game round.
Xmas Joker Slot Christmas Gifts
Aside from re-triggering the Free-Spins Bonus Games, Play'nGo's Xmas Joker slot awards coin prizes whenever two Christmas Gift icons appear anywhere across the reels. The cash values of the coin prizes are based on the total bet placed per spin. The equivalent cash reward will be paid in folds according to the value multiplier randomly generated by the game. According to the Paytable info, the Xmas Joker's Christmas Gift value multiplier ranges anywhere from one (1) to a hundred (100) times.
Xmas Joker Betting Options
Play'nGo's presentation of the Xmas Joker betting options does not follow the traditional format used in most slot games. Players will find five (5) buttons that turns yellow when clicked on. Each button represents a range of coin values to place as bet per spin for all five paylines.
The first button contains coin values ranging from 0.50 minimum to 5.00 max. The second button provides a quick way to place up to 10.00 maximum bet, while the third button is for a 25.00 max bet. The fourth and fifth betting options are for max bets of 50.00 and 100 respectively. Xmas Joker slot players can modify the betting options by clicking on the plus or minus signs, in order to increase or decrease the betting options appearing on each button.