Old Timer Slot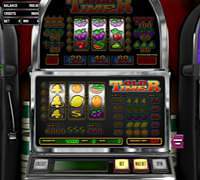 You like your fruits and vegetables? You can play around with the fruits and vegetables with Old Timer, a slot game that uses fruits and vegetables as the symbols but the layout is that of the old-school slot games you play in normal casinos. From lemons to watermelon, the symbols are all fruits and veggies.
Old Timer is a 3 reels and 5 payline slot game that pays tribute to the old-school slot machines of the yester years. The design is already a nod to the old design but it's been modernized to give you smooth animation and slick style.
Free Slots Games with Tons of Spins!
While it doesn't have many features like other slot games, it does have some cool options that will keep you occupied like the options of betting to the max, the options to bet big at certain amounts and more. You can also choose the paylines that will give you the chance of winning big when they align right with the certain symbol. Other than that, Old Timer plays like your average slot game. But it can still keep you in for a good time.
If you're not the kind to play complex slot games, go for the Old Timer. It features fruits and vegetables and it's designed to resemble an old-school slot machine. Ready to bet those nudges?
Update:This game has been retired, we suggest trying Retro Reels Diamond Glitz.
Slots Game Review
Slots Reviews
Review Date
Reviewed Item
Author Rating