Green Lantern Slot Game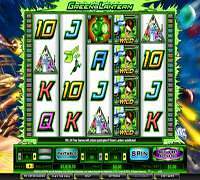 Another DC-themed slot game is coming. With Batman already out and making headlines, maybe it's time to have the man with a ring make his acquaintance with slot games. Hal Jordan or the Green Lantern (for our Earth at least), is getting a slot game.
The Green Lantern Slot Game is a 5 reel, 50 payline and non-progressive slot game. This is one of the few comic-themed slot game that has no progressive jackpot so don't expect to get progressive jackpot like the other comic slot games. Even without it, the Green Lantern still packs a punch with all the bonus features of other slot games.
The game is designed after the comic book, so you'll see the familiar images of Sinestro, the ring and the man himself. You can also see the background of a destroyed city which is one of the events in the comic. No Ryan Reynolds but it will do.
Anyone making bets should be happy because you can bet for low as $0.01 and high as $1200. The bonus features will help you out reel in more winnings, with the wilds and scatters doing their function. The bonus round, Ring Bonus, lets you win the multiplier bonus which lets you multiply your wins up to 100x!
When the other DC heroes can't fight, there's only one man who can do it: Hal Jordan or Green Lantern. Play this slot game and join Green Lantern in his quest to save his galaxy.
Slots Game Review
Slots Reviews
Review Date
Reviewed Item
Author Rating