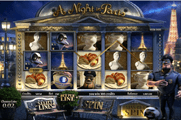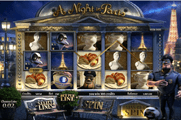 A Night in Paris Free Slots Review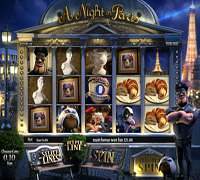 Paris, the city of love and the city of romance. Who wouldn't want to spend a day or two there? Betsoft Gaming gives its players that chance through this outstanding game that is called A Night in Paris. Through this game, Betsoft will take players on a very entertaining and an exciting journey in the city of Paris. They will do that as they are accompanied by a French police officer and his loyal dog, players will see them both at the right-side of the game's screen beside the reels. there is also a cunning thief who is a part of the game play, who is trying to break into the museum of the Louvre in order to steal the paintings. Players will enjoy the City of Paris as they also try to help the police officer arrest the thief. In fact, one of the bonus games of the game does exactly that through amazing 3D animations.

Players will be sucked into the theme of the game through the symbols and the layout of the game. The symbols appearing on this Betsoft video slot include the Eiffel tower, the police officer, his dog, a thief, a badge, birds, a statue and a delicious croissant. All of these symbols enable players to experience the glamour and glitz of the French city of Paris without having to leave their homes. As the usual from Betsoft powered 3D slots, some of these symbols will turn into animated 3D symbols when they are a part of a winning symbols' combination.
The wagers can be placed by players at the bottom, players will able to place a wager that can be as small as 0.05 and as big as 150 credits per each spin. Players will choose their wager by placing a number of coins on a number of lines after choosing a coin size.
The game has a free spins bonus round. Players can activate it by getting 3 or more Police Badge symbols. Another bonus feature is entitled Caught in the Museum. Players would trigger this feature when they get 3 portrait symbols. They will witness a heist taking place as at the museum as the police officer tries to capture the thief before he commits the crime and pulls of the heist by escaping with the painting. So if you ever wanted to visit Paris, then this is the 3D video slot for you. Enjoy it here for free with endless demo credits.