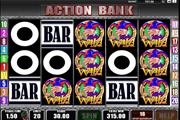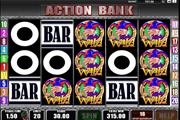 Action Bank Slot : Play and Gamble Free-Spins or Win the Big Bank Bonus!
Action Bank is a Barcrest/SG Interactive online slot that takes betting on reel-outcomes to a different level. Here, a player who gets a chance to activate the free-spins round may gamble his or her bonus spin rewards further. Staking a round of free-spins may result to winning more bonus spins.However, there is a chance that a bonus player might instead lose the free-spins initially won.
Some players may get lucky, by instantly unlocking the Big Bank Bonus  and win one of three Multiplier prizes.
[/CBC]

The game has only three (3) regular reel icons; the classic 7, BAR and X.
The Lucky Number 7 pays the highest, awarding 20x, 100x, 500x the Line Bet on every 3, 4, or 5 winning symbols. The BAR icon correspondingly awards 10x, 20x, or 100x the Line Bet, while the X Symbol pays 5x, 10x, or 50x the Line Bet. At random occasions, icons bearing double 7, BAR or X images appear in any row or reel. If such an image finds a match in any payline, the payout for that particular win, will be doubled as well.
The Zero Symbol is a non-winning icon. Yet it holds the key to the Free-Spins Bonus Game or possibly, the Big Bank Bonus. Another important element is the Joker Wild. As a suitable substitute symbol for only three regular icons, its appearance in any reel increases the odds of completing one or more payline wins.
Action Bank Online Slot: Wild Symbol
A Joker poses as Wild Symbol that may appear in part or in whole as Stacked Wilds in any reel. It can stand-in as alternative for a 7,BAR or X if the matching symbols are positioned in the same payline as the Joker Wild. The Joker Wild's configuration in the game though, does not result to winning combinations.
Action Bank Online Slot: Zero Symbols
The Zeroes appear frequently, and often times abundantly across the slot screen. Although in place as non-winning symbols, they randomly turn into Vault Dial icons. Three or four emerging still do not make the Zero-cum-Vault Dial symbols into winning combinations. Yet if five (5) Zeroes, one in each reel, become Vault Dial images, the Action Bank Free-Spins Bonus Game initiates.
Action Bank Free-Spins Bonus Game
A prompt to select a round of free games will replace the five (5) Vault Dial icons. Each image has a hidden number of Bonus Spins ranging from 5, 10, 15, 20, 25, up to 30. The number revealed by the Vault Dial selected by a player will then be the ante, if a player chooses to proceed with another gambling game.
Otherwise, he or she may collect and continue by playing the Free-Spins Bonus game revealed by the Vault Dial.
When Action Bank bonus players stake their bonus spins, a prize panel lights up higher number of free-spins as potential rewards. They can gamble until they get to win more bet-free spins or land on the same number of spins. However, the betting game could go south, which entails losing a round of free games altogether.
Yet a bonus player may get lucky, if he or she instantly selects a Vault Dial that opens the Vault Door leading to the Big Bank Bonus.
Action Bank Big Bank Bonus
This game segment presents players with 15 Vault Dial icons to select. Every icon unravels a Diamond, a Ruby, or a Sapphire.
In order to win a Big Bank Bonus, a player must unravel the right Gemstone combination. Revealing a combination of four (4) Diamonds, five (5) Rubies, or 6 Sapphires, triggers the awarding of a Total Bet Multiplier. The highest Big Bank Multiplier Prize is 500x the Total Bet wagered on the spin that produced the 5 Vault Dial icons. The Multiplier Prize though depends on the Gemstone combination completed.