Aztec Treasures Slots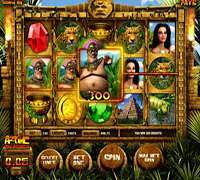 This is the year 2012, when the supposed apocalypse is to come. While many don't believe, there are some who still do. If you're one of them, then make your last days the best with Aztec Treasures, a slot game based around the Aztec culture.
Betsoft Gaming is the gaming developer of this game, which automatically vouches for the game's quality and its entertainment value. The game has 3D visuals, which is also another will known trait for Betsoft Gaming video slots. The game's visuals, as well as symbols, are all inspired by the Aztec civilization. This is why players will see an Aztec tribal leader on the side of the reels who will join players in their adventure while helping them get paid. The same can be said about the symbols that will fall and tumble across the reels. As they are all inspired by the Aztec culture. These symbols would also turn into fun and entertaining animations when they become a pat of a winning combo, or when players trigger a special bonus feature of any kind.

The Free Slots Game About Aztec Treasures
Aztec Treasures is a 5 reel, 20 payline slot game with a progressive jackpot. The game is filled to the brim with Aztec themes, such as the woman, the symbols of worship and other images that depict the culture of Aztec. If you think it's all for show, think again because Aztec Treasures shines brightly with its game play options and features.
Betting options are good in this game, letting you bet from the lowest ($0.01) to the highest ($5). these bets can be placed under the spinning 3D reels of the game as you toggle through the different betting options that the game has.
You also have the bonuses and free spins which help you out in winning more, especially when you want to hit the biggest win of all: the progress jackpot. It keeps growing every single day. Do you think you'll win that money? Who knows. For more details about the free spins, the bonuses and even the regular line pays that the 3D symbols can give, players can easily open the payouts table at anytime and view it all.
So whether or not you believe in the 2012 apocalypse, you have a chance to win the treasure of the Aztec. Can you win it before time runs out? Or have you run out of time?