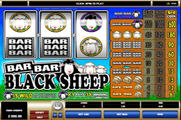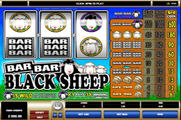 Bar Bar Black Sheep Free Slots Review
Bar Bar Black Sheep is a 3 reel free slots game, much like the original style, but in a digital format. These more simplistic versions of slots are generally preferred version by slot purists, and lack much of the flashy graphics that the five reel games have. They play very quickly, and often cost less to play even the maximum bet, due to the fewer number of reels and pay lines. However, this does not make them any less popular.
Bar Bar Black Sheep is a very easy game to play, and is a fun take on the classic nursery rhyme. While most players may originally be a little skeptical of the odds of winning, seeing how it lacks the progressive play option, the truth is that it creates a more exciting play environment. There are still multipliers to be used and a wild symbol, which takes the form of a black sheep.

The jackpot on this game is higher than what you would normally win on something with more pay lines and reels, at 8,000 coins. This is simply because you have to win on that particular line. You will have great fun seeing how the black sheep is far from being an outcast in this game, and has very much become the center of attention. The black sheep has the ability to take on any symbol, and can easily become the winning symbol to earn you a huge jackpot. This is why the black sheep is special, and players should always keep an eye out for it so they can have a better chance at earning payouts. all of the payouts that the game has to give to players can ebbeviewed at any time during the game play as they are displayed on the right side of the reels. It shows players what they will earn when they get 3 of the same symbols on a payline, whether they placed a 1 coin bet, or a 2 coin bet or a 3 coin bet. having the paytable on display the whole time is certainly a good thing as it always entices players to play seeing what they can claim in rewards in front of them.
These single reel games still have great graphics, colors, and themes, and can be much less confusing to play than their multi-reel, and multi-line counterparts. So if you are looking for a classic experience, this is the game for you.