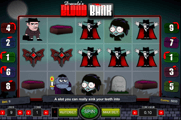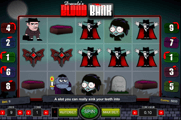 The Big Wins Only Come out at Night – Just like Dracula
Do you like your stake bloody, are those bloodlines, these are only some of the puns that will be displayed under the reels to lighten up the tone of the game. This is because this game is supposed to be themed around Dracula, the vicious blood sucking being who preys on the innocent. On the other hand, the game approaches this theme from a cartoonish point of view, which makes it fun and drives it away from the grim and dark environment that games with similar themes always create.
The game has 5 reels, 9 lines and plenty of high paying bonuses that players will be able to enjoy and check out for free right here before placing real bets at the 1×2 Gaming powered casinos.

The Visuals and the Theme of the Slot
The full name of the game is "Dracula's Blood Bank", it tells the story of a man who appears on the reels of the game, who visits Transylvania and becomes a victim of Dracula, thus, turning him into his blood bank. Feeling scared yet? Don't be, because the game is pretty light and is not that dark, as it approaches everything in cartoonish graphics and funny puns that will appear under the reels.
The cartoonish visuals of the game include Dracula, the monster of Frankenstein holding a candle, a cross, Dracula's son, Dracula's daughter, a wild bat, Dracula's coffin and Dracula's tombstone.
Placing Bets and Spinning the Reels
The Placement of the bets is done with ease at the control panel of the game as players will simply choose the number of lines they wish to activate, the number of coins and the value of the used coins, they will then click on spin to start the game. There is also the max bet icon and there is the Auto bet feature that can make everything run smoother and players will not have to set the wager before each spin.
Special Features and Icons
The game has a wild icon, which is none other than the wild black bat. This wild bat is going to replace any other icons on the game's screen to help players earn a pay (except the scatter symbol).
As for the scatter symbol, it is the bloody free spins icon. Three of these free spins icons would trigger the free spins round. The more scatters, the more free spins as players can claim up to 15 of them.