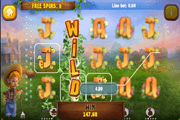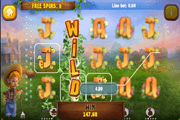 Bumper Crop Online Slot: Grow a Wild Tree to Trigger Free-Spins
Bumper Crop online slot by Playson is an engaging, 27-payline, icon-matching game in which top-paying gardening elements contribute to the growth of a Wild Tree. Once that Wild Tree becomes a reel element, free-spins will be activated. The number of fruits borne by the triggering Wild Tree, determines the number of free-spins rewards.
A Shovel, a Bag of Seeds, a Watering Pot, and the Sun, all appears as regular paying symbols. The Sun is the highest paying icon, awarding 1x, 10x, or 75x the Total Bet. Yet every one of those images are significant, because their emergence in every reel works toward the growth of a Wild Tree or even a Super Wild Tree.


Take notice of the allotments positioned below each reel, and of the little symbols appearing next to them. Those symbols indicate the next growth element needed in order to spur a tree's development. Once a growth meets all requirements, a Gardener Scatter Symbol emerging on the same reel will bring a fully grown, fruit bearing Wild Tree to the reel.
Bumper Crop Online Slot: Wild Symbol
The Wild Tree Symbol appears only after a reel has supplied all growth elements, from Shovel to Bag of Seeds, Watering Pot, Sun and Gardener images in that particular order. Every Wild Tree furnishes 3 substitute symbols in each column, capable of replacing all symbols including Gardener Scatter icons.
Wild Trees nurtured via Reels 1, 2, 4, and/or 5 activate 3 or 4 free-spins, depending on the number of fruits borne by the full-grown tree. The Reel 3 allotment is reserved for the development of a Super Wild Tree.
The Super Wild Tree is a Reel 3 exclusive. This type of Wild Symbol is touted as Super because it activates 10 free-spins.
In addition to the free-spins, every Wild Tree or Super Wild Tree activating a bonus round, will lock in place for the duration of the free bout.
By the way, all growth developments will continue to progress throughout a playing session; giving players continuing opportunities of raising another Wild Tree or of growing a Super Wild Tree even in the free-spins round.
Bumper Crop Online Slot: Gardener Scatter Symbol
The Gardener icon awards Scatter Pays of 1x, 15x, or 100x the Total Bet, whenever three, four, or five simultaneously come into view after a spin. During Free-Spins, the Gardener transforms into a Super Gardener, still capable of growing a regular Wild Tree or a Super Wild Tree but with a difference.
The Super Gardener is a Free-Spins feature. Every Super Gardener that emerges in a reel advances the growth stage in a corresponding allotment by one level.
Bumper Crop Online Slot: Free Games
All matched-groupings falling in a payline during free games will be evaluated both ways. This denotes a payline win may start from either the leftmost or the rightmost reel during a set of Bumper Crop Free Games. A five-symbol winning combination however, counts as a single payline win.
If another Wild Tree or Super Wild Tree grows during an ongoing Free Round, the new tree adds a fresh round of free-spins. The new Wild Tree or Super Wild Tree though and the related free-spins, remain on hold until completion of the first set of free games.