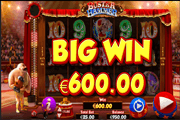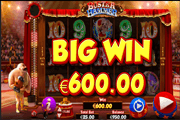 Buster Hammer Online Slot: Fun Circus-Themed Betting Game Loaded with Wild-Win Multipliers!
Buster Hammer is a Chance Interactive slot game delivered to online casinos via the NextGen/NYX Gaming platform. Featuring 243 ways by which identical, circus-themed reel icons positioned in consecutive reels, land as winning combinations. In this real money slot game, landing on matched groupings that include a Wild Symbol triggers the release of a Wild-Win multiplier.
The Wild Multiplier feature has greater significance in the Free-Spins Round, in which players have a chance to double, triple or quintuple the multiplying factors. Moreover, the Buster Hammer base game has a random Super Seal feature that doles out instant wins and multipliers.
[/CBC]

Since there are no pay-patterns to fill-in, and while symbols need only to appear in consecutive reels, the resulting multiplier applies to all wins completed by the triggering Wild Symbol. If more than one Wild fulfills the multiplier feature, Big Wins are likely to happen. All Wild multipliers revealed via a single spin will be considered. In evaluating the payout, the game adds up all factors before multiplying every winning combo completed by the Wilds.
Buster Hammer Online Slot: Hammer Wild Symbol
An animated figure of Buster Hammer, the circus Strong Man, is displayed off-reel. Buster Hammer pounces on the High Striker with all his might once an emerging Hammer Wild completes a winning combination. The action signals the release of a multiplier that is applicable to all wins completed by that particular Wild Symbol.
During base game play, a multiplier may be anywhere between x1 and x5. The more Wild Hammers involved in creating matched groupings, the higher the factor applied to all Wild-related payouts. Supposing a winning combo includes two Hammer Wilds, one with a x2 factor, and the other with a x5 factor. The payout for that winning combo will then be multiplied by a x7 factor (x2 + x5). If those two Wild Symbols completed several matched-groupings, then all related payouts will be paid sevenfold (7x).
The Hammer Wild Multiplier feature is even more amazing in the Free-Spins Round. Multiplier factors may be doubled, tripled, or quintupled, depending on the Bonus Game configuration selected by a Buster Hammer slot player.
Buster Hammer : Free-Spins Bonus Round
Take notice of the Buster Hammer Circus Tent. Three, four, or five of those images trigger the launch of the Free-Spins Round. The Circus Tent symbol instantly earns players a bonus reward of 5x the Total Bet staked on the triggering spin.
The game initializes by prompting players to select one of the following bonus game configurations:
• Eight (8) Free-Spins in which resulting Hammer Wilds are DOUBLED.
• Six (6) Free-Spins in which resulting Hammer Wilds are TRIPLED.
• Four (4) Free-Spins in which resulting Hammer Wilds are QUINTUPLED.
The free games, however, is not configured to re-launch with another set of free-spins.
Buster Hammer Online Slot: Super Seal Base-Game Feature
This feature is a base game attribute that randomly awards instant bonus wins. A Seal animation appears in front of the slot screen, awarding one or more bonus wins as initial rewards. The amount awarded ranges from 1x up to 5x the Total Bet staked on the triggering spin. After revealing the bonus amount/s, 3 random multipliers will be awarded. Each factor will then multiply the initial Bonus Wins awarded by the Super Seal.