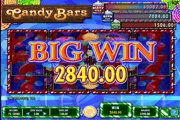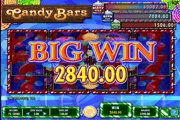 Candy Bars Online Slot: Sweet Wins are Made of 7s,Lollipops, Gumdrops, Peppermints and Chocolates!
Candy Bars is a 4-row x 4-column online slot from IGT, featuring 50 paylines in which Lucky Number 7 Symbols, lollipops, peppermints, and gumdrops, line up as matched groupings. The game play is rather standard, but the rewards in store are extraordinary!
This game awards Blackout Wins in addition to payline wins completed by identical images filling up all 16 reel positions. Moreover, the Candy Bars Wild Symbol has a 2x Wild-Win Multiplier that could increase to 4x if two (2) Wilds completed a payline win.
[/CBC]

If a slot player hankers for more wins, bigger prizes come around, if two (2) or more reels return completely filled with Chocolates. Such an occurrence wins a lucky Candy Bars player the Snack Size, the King Size or the Giant Size Progressive Jackpot, as determined by the number of Chocolate-filled reels produced by a spin.
Candy Bars Online Slot Reel Symbols
There are two (2) types of Number 7 icon in play, a Red 7 on blue background and a Blue 7 on Red background. The Red 7 pays the highest, as it correspondingly awards 15, or 100 coins for every 3 or 4 matched symbols lined up in a payline. The Blue 7 pays 10 or 50 coins for 3 or 4 payline matches. Yet a 3 or 4 symbol-grouping comprising any combination of the Red and Blue 7s, awards 5, or 10 coin credits accordingly.
The Lollipop, the Peppermint and the Gumdrop totems award uniform pays of 5 or 10 for every 3 or 4 matched-symbol groupings in any payline. The images of those three (3) delectable sweets may emerge in a tile with a Chocolate Bar backdrop. Any such symbols appear only in Reels 2, 3, and/or 4. If aligned in the same payline as the plain Lollipop, Gumdrop, or Peppermint symbols, they are eligible as alternative icon to complete winning combinations.
The great news is that the symbols with Chocolate Bar background are not the real Wild Symbols to anticipate as substitute icons. The Gumballs totem marked as 2X, is the official Candy Bars Wild Symbol.
Candy Bars Online Slot: 2X Gumballs Wild Symbol
The 2X Gumballs Wild Symbol is configured as a Stack of 4 tiles appearing only in Reels 2 and/or 3. Still, any portion of those Stacked 2X Gumballs Wilds emerging as part of a payline matched-symbol grouping, qualifies as suitable substitute that completes or expands a combination.
All Wild-completed payline wins are paid double. If a winning combo constitutes two (2) 2X Gumballs Wilds, the payout will be 4x the actual prize value. The 2X Gumballs Wilds though, can only complete regular payline wins and not the game's special "Blackout Wins."
Candy Bars Online Slot Special "Blackout Wins" Feature
If after a spin, all four (4) reels are filled with 16 identical images of any of the Number 7 symbols, or of the Lollipop, Peppermint and Gumdrop totems, "Blackout Wins" will be awarded accordingly:
• 16 Red 7s award 25,000 coin credits
• 16 Blue 7s award 12,500 coin credits
• 16 Red and Blue 7s in any combination award 5,000 credits
• 16 identical Lollipop, or Peppermint, or Gumdrop icons award 5,000 coin credits
The Coin Value in play at the time the "Blackout Wins" occurred multiplies the coin credits received as Blackout Winnings. The amount won will be in addition to the payouts earned for three (3) or four (4) matched-symbol payline wins.
Candy Bars Progressive Jackpot Prizes
A Stack of Chocolates appears, only as a full-reel symbol, in reels 2, 3, and/or 4. If the Stack of Chocolates emerges only in Reel 2, the Snack Size Progressive Jackpot will be awarded. If it appears in both Reels 2 and 3, the occurrence triggers the release of the King Size Progressive Jackpot. Lucky Candy Bars slot players landing on an outcome with Stacks of Chocolates in all designated Reels 2, 3 and 4, stand to receive the highest reward of the game, the Giant Size Progressive Jackpot.