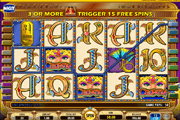 Cleopatra : An Older IGT Slot Content Popular for its Great Payout Values
Cleopatra is an early IGT title originally released as a Las Vegas slot machine game content. As this game is an online version of an older IGT release, the game's graphic illustrations are not as impressive as those of the newer Cleopatra-themed video slots created by other online slot developers. Nevertheless, refrain from judging the game by its graphics alone. Since its launch and up to the present, this slot remains popular among slot players because of its great payout offers.
This IGT online slot has twenty (20), non-fixed paylines on which to place bets. Players have the option to reset the number of paylines to activate, by clicking on the LINE button. The number and choices of paylines though, are pre-set at one (1), five (5), nine (9), fifteen (15) and twenty (20).
Cleopatra High-Paying and Special Reel Symbols
In line with it ancient Egyptian-civilization theme, Cleopatra online slot by IGT showcases popular Egyptian symbols as high-paying reel icons. The Scarab and the Lotus Flower pay for two (2) or more identical icons if appearing in an active payline. Those symbols also pay the highest, at 750 coins for every five (5)-of-a-kind Scarab or Lotus symbols. The rest of the other high-paying symbols, the Cartouche, the Flail and Crook, and the Eye of Ra or Horus award payline wins for three (3) or more identical payline symbols.
The animated Cleopatra Logo and the Pyramid images represent the Wild and the Scatter Symbols.
The Cleopatra Logo Wild Symbol
The Cleopatra Logo represents the Wild Symbol that could be used as stand-in for regular icons when forming a payline win. Moreover, any matched payline combo created through the Wild substitution functionality, pays double (2x) the amount of win corresponding to the matched symbol.
In addition, two (2) or more Wild Symbols complete a winning payline combo; rewarding as many as 10,000 coin credits for every set of five (5) Wilds positioned in a payline.
The Pyramid Scatter Symbol
The Pyramid, as a Scatter Symbol creates reward-boosting occurrences whenever two (2) or more appear in any row or column across the screen. Slot players receive Scatter Pays equivalent to two times (2x) the total bet at the least, and up to 100x the total bet for five (5) Pyramid Scatter Symbols. Aside from the resulting Scatter Pays, the Pyramid Scatters also bring free-spins rewards, whenever three (3) or more land as outcome of paid and free spins.
The Cleopatra Free-Spins Bonus Round
Activated by the Pyramid Scatter Symbol, a Free-Spins Bonus Game has many as fifteen (15) bet-free spin actions. During the round, the Pyramid Scatters remain active, denoting that the round could extend beyond the original set of (fifteen)15, if a spin produces another set of three (3) or more Scatters. Actually, IGT's Cleopatra is configured to award up to 180 bet-free spins in a single Bonus round.
Such an attribute is quite significant because the Bonus Game pays triple (3x) the payout value of each payline win.
Cleopatra Slot - Wow! This Game Really Rocks with Great Pays!
Cleopatra online slot is an early IGT slot release and it is no wonder that the game is still popular because based on standards and even when compared to newer online slot games, it offers high monetary returns.